Press Release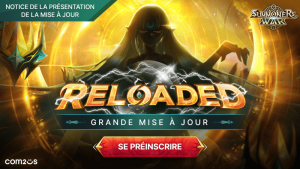 Summoners War: Sky Arena Unleashes RELOADED Update on June 30th

– Second update to follow in late August, bringing even more enhancements and features to the game! –

Summoners War, the popular mobile role-playing game developed by Com2uS, is celebrating its 9th anniversary with a major update called RELOADED. This update aims to improve the overall gameplay experience and ensure that Summoners War continues to evolve as a game enjoyed by players for many years to come. The RELOADED update will be held in two parts, with the first update scheduled for June 30th and the second update planned for late August. The first part of the update introduces exciting changes and enhancements to various aspects of the game, while the second part will feature a Dimension Hole revamp and the introduction of 2nd awakening versions of Living Armor and Frankenstein.

The first part of the RELOADED major update brings exciting changes to the game's Battle Content Farming, Rune system, Artifact system and more. One of the key highlights of the June 30th update is the addition of a brand-new floor called Abyss to be added to Cairos Dungeon. The Abyssal floor is designed for experienced Summoners to have more challenging PvE content. The Abyssal floor has two difficulties: Normal and Hard. It features new bosses called Superior bosses, which are evolved versions of the bosses in Giant's Keep and Dragon's Lair. These bosses are known as the Abyssal Ancient Giant and Legendary Dragon.

Key Features of the update:
● Enhanced Farming Content: The Cairos Dungeon receives a significant revamp, introducing the Abyssal floor. Experienced Summoners will face superior bosses, the Abyssal Ancient Giant and Legendary Dragon, in this challenging new dungeon.
● New Dungeon and Rune Set: Prepare for the spiritual realm, a fresh dungeon where players can obtain the Seal rune set.
● Introducing the Intangible Rune: Players can equip up to one Rune to each Monster, instantly replacing a missing set required to activate the Rune set, allowing for strategic customization; however, it can only replace one set and cannot replace two or more Rune sets simultaneously.
●Streamlined Progression: Runes can now be upgraded instantly without the risk of failure, providing a smoother power-up experience.
● Introducing New Monsters: Get ready for the arrival of the Indra (5 stars) and Asura (4 stars) families. These new additions expand the roster, offering fresh options for team compositions and strategic gameplay.

More details on the update can be found here:
https://m.withhive.com/notice/313/61042
Check out informations about the Monsters here:
https://withhive.com/notice/313/61114

---

About Com2uS
Established in 1998 and headquartered in South Korea, Com2uS operates internationally with offices in the United States, Germany, Japan, Indonesia, Taiwan, China, Thailand and Vietnam, and became a subsidiary of Com2uS Holdings (previous: GAMEVIL) in 2013. As a leading developer and publisher of mobile games, they thrive on creating successful games with a level of depth and engagement for the global market. With a newly added focus on blockchain and metaverse, Com2uS is taking a new leap as a global comprehensive content and platform company to lead the global digital paradigm.

Com2uS currently has a number of mobile games around the world, including Summoners War, Ace Fishing: Wild Catch and Golf Star. With over 180 million downloads and global sales of $2 billion, Summoners War is the #1 grossing game in 93 countries and in the top 10 in 154. The game's RPG mobile sales is ranked first in 136 countries and continues to grow worldwide.