Press Release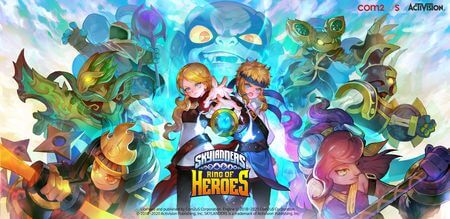 Two new characters are unleashed in Skylanders™ Ring of Heroes

 – Smash Hit and Scratch are introduced into the game, alongside an event to give users the chance to win valuable in-game items  –

SEOUL, SOUTH KOREA – January 25th, 2021 – Mobile game company Com2uS (CEO James Song) announced that they have released two new characters for the turn-based RPG, Skylanders™ Ring of Heroes, alongside an exciting in-game event.

Both of the new characters possess 2 different characteristics each, boasting great attack and defense abilities.

Smash Hit

, who looks like a mole, is a

Legendary

Earth character who uses a giant iron mace to implement a wide range attack on enemies. Since it's an Earth character who specializes in defense, it also possesses a powerful

leader skill that can help survive in the battlefield. 

Scratch

, a

Heroic

character of the Air Element, resembles a cat and is able to move quickly and possesses sharp attack skills that aim directly for the enemy's weak points. Moreover, this character possesses various evasion skills to nullify the enemies. 

Skylanders™ Ring of Heroes will be holding an event to help the users enjoy the new character update and game content, accompanied by opportunities to acquire some awesome rewards. Users can complete various daily in-game missions until February 1st to obtain Gems, Gold, and other various items required to upgrade Skylanders depending on the results. Additionally, a large number of Legendary Skill Power-up Stones (which are considered to be the best in-game items) are available according to the accumulated participation count. 

Skylanders™ Ring of Heroes is a new kind of a turn-based RPG created based on Activision's IP. The game provides the fun of collecting and upgrading Skylanders with colorful and unique characteristics, and the pleasure of strategic battles with various skills. 

More information on the content update and Skylanders™ Ring of Heroes is available on the official website. The game is available to download in the Google Play Store and Apple App Store and can be followed on Facebook and Instagram.

---

About Com2uS:
Established in 1998 and headquartered in South Korea, Com2uS operates internationally with offices in the United States, Germany, Japan, Indonesia, Taiwan, China, Thailand, and Vietnam and became a subsidiary of GAMEVIL in 2013. The mission is simple. As a leading developer and publisher of mobile games, they thrive on creating games with a level of depth and engagement rarely experienced on mobile platforms. For more information about Com2uS and their portfolio of groundbreaking mobile games, visit: www.com2us.com.

About Activision:
Headquartered in Santa Monica, Calif., Activision is a leading global producer and publisher of interactive entertainment. Activision maintains operations throughout the world and is a division of Activision Blizzard (NASDAQ: ATVI), an S&P 500 company. More information about Activision and its products can be found on the company's website, www.activision.com or by following @Activision.