Comunicato Stampa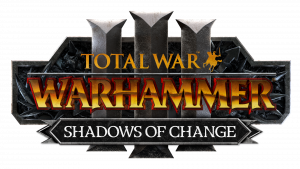 Shadows of Change è disponibile ora per Total War™: WARHAMMER III

 

Londra – 31 agosto 2023 – SEGA® Europe Ltd e Creative Assembly™ Ltd hanno pubblicato oggi il pacchetto DLC Shadows of Change per Total War™: WARHAMMER® III. Tre nuovi Lord leggendari si uniscono alla battaglia: il Mutaforma per Tzeentch, il Drago di Giada Yuan Bo per il Grande Catai e Madre Ostankya per il Kislev. Tutti con dinamiche di campagna uniche da sfruttare, unità da comandare e abilità di battaglia da utilizzare.

Guarda qui il trailer per Shadows of Change:

Il Mutaforma, l'Ingannatore di Tzeentch (Tzeentch):

Il Mutaforma è un maestro dei sotterfugi capace di assumere molte identità. La sua specialità è fondare culti negli insediamenti, allo scopo di manipolarli così da portare avanti i suoi piani. Egli fa ricorso a furti d'identità, scherzi e inganni per distruggere lentamente le alleanze altrui e alimentare i conflitti, come per esempio con i Conti Elettori, che potrebbe spingere verso una guerra civile così da far crollare l'Impero dall'interno. 

Nuove unità: Scribi Blu, Tzaangor, Coccatrice e Bestia del Cambiamento Mutalith

Yuan Bo, il Drago di Giada (Grande Catai):

Leader della Corte di Giada e Carnefice dell'Imperatore. A prima vista, un burocrate ossessivo. Sotto questa maschera innocua, tuttavia, si cela una spia talentuosa, uno stregone formidabile e un guerriero ferocissimo capace di sbaragliare in corpo a corpo, e in uno contro uno, Eroi e Lord nemici.

Nuove unità: Leone di Giada, Leone di Giaietto, Uomini corvo di onice, Generale Celeste e Tamburo da Guerra Zhangu

Madre Ostankya, Figlia della Foresta (Kislev):

Una strega vendicativa che dimora negli antichi Oblast del vecchio Kislev, costantemente alla ricerca di Maledizioni Proibite con cui accrescere il suo potere. Dietro il suo aspetto fragile si cela un essere di terrificante potenza arcana che infesta gli incubi dei bambini kisleviti e che sfrutta l'ira della natura per creare maledizioni e incantesimi devastanti. 

Nuove unità: Strega Megera, Incarnazione Elementale delle Bestie, Cose nei Boschi e Akshina Assalitori. 

Contenuti gratuiti:

Eroe leggendario Aekold Helbrass; un cultista del Caos che è stato inseguito fino ai confini delle Desolazioni del Caos. È stato salvato in punto di morte ed è rinato come Campione di Tzeentch.

Patch 4.0:

Con Shadows of Change arriva la patch 4.0 di Total War: WARHAMMER III. Le note sulla patch possono essere lette nel blog ufficiale di Total War, ma ecco un piccolo assaggio di alcune novità. 

Modifiche e miglioramenti della IA:

L'IA di Total War: WARHAMMER III riceve miglioramenti costanti che puntano ad aumentarne il grado di sfida, a renderla più efficace quando conta e ad aumentare la sua probabilità di commettere errori, offrendo così ai giocatori più opportunità di cogliere l'iniziativa a livello strategico. 

Nuovi Capisaldi storici:

Abbiamo aggiunto 13 nuovi capisaldi nella mappa come parte del nostro impegno per portare i luoghi più amati della trilogia all'interno di Immortal Empires:

Caverne glaciali nel Crepaccio del Tessifato

Serraglio di Agrammon nel Castello dello Splendore

Boschetto dissacrato nella Foresta Infestata

Palazzo imperiale occupato a Weijin

Pilastro di Osso nella Gola della Morte

Huatl nel Risveglio

Monumento alla Caccia Estatica nel Tempio di Kurnous

Valle dai Molti Occhi nel Pozzo Nero

Quercia scatenata a Mordheim

Relitto dell'Artiglio dell'Agonia ad Haichai

Monolito della Mano Insanguinata nel Monolito di Bjorkil Mano Insanguinata

Sala della Rinascita a Lahmia

Campane dei Lazargh nel Portale delle Fauci

Magia:

Il Sapere della Luce e il Sapere delle Bestie sono stati completamente rinnovati, con nuovi effetti visivi e miglioramenti audio per ogni incantesimo di ciascun Sapere. 

Mappe:

Uominibestia – ottengono "pietra del branco" come mappa insediamento minore.

Uomini Lucertola – ottengono "Pozze della nascita", una nuova mappa dominio.

Desolazioni del Caos – le aree delle "Montagne delle Desolazioni del Caos" ottengono nuove mappe battaglia. 

Correzioni di bug:

Un'orda di bug è stata eliminata nella Patch 4.0. Visita il blog di Total War per le note sulla patch complete.

Trilogia di Total War: Warhammer:

In uscita nei prossimi mesi di quest'anno, Total War: Warhammer Trilogy Edition unirà tutti e tre i giochi base in un'unica edizione fisica che sarà venduta al prezzo di 49,99 £/59,99 €. Sarà incluso anche un buono sconto del 10% su tutti i DLC.

Per ulteriori informazioni, visita: https://www.totalwar.com/blog/tww3-update-400/ 

Informazioni di vendita:

Data di uscita: 31 agosto, ore 16:00 CEST

Pagina del negozio: Total War: WARHAMMER III

Piattaforme: Steam, Epic Games Store, Microsoft Store

---

About Total War
With more than 42.5 million copies sold, Total War is one of the most established and critically acclaimed series in gaming. A drive for historical authenticity and superb gaming quality has helped establish the franchise as one of the most successful PC games of all time. Alongside the core historical-based games, the Total War series has expanded to include free-to-play mobile (Total War Battles™: KINGDOM), fantasy epics (Total War: WARHAMMER), and historical snapshots (Total War Saga™: THRONES OF BRITANNIA). www.totalwar.com.

About Creative Assembly™
Creative Assembly is one of Europe's leading games development studios, founded in 1987 and located in West Sussex, UK and in Sofia, Bulgaria. With a heritage of award-winning AAA titles, including the multi-million selling Total War™ series, Creative Assembly continues to build an impressive portfolio of games including the newly announced first-person shooter HYENAS and through world-renowned partnerships; with Games Workshop on Total War™: WARHAMMER®, Twentieth Century Fox on Alien: Isolation plus 343 Industries and Microsoft on Halo Wars 2. Creative Assembly has, with their exceptionally talented team of over 800, amassed a wealth of awards including multiple Best Place to Work awards and accolades from BAFTA, Music+Sound and Develop's Industry Excellent awards. www.creative-assembly.com 

About SEGA Europe Limited
SEGA Europe Limited is the European Distribution arm of Tokyo, Japan-based SEGA CORPORATION, and a worldwide leader in interactive entertainment both inside and outside the home. The company develops and distributes interactive entertainment software products for a variety of hardware platforms including PC, wireless devices, and those manufactured by Nintendo, Microsoft and Sony Interactive Entertainment Europe. SEGA wholly owns the video game development studios Two Point Studios, Creative Assembly, Relic Entertainment, Amplitude Studios, Sports Interactive and HARDlight. SEGA Europe's website is located at www.sega.co.uk

About Games Workshop®
Games Workshop Group PLC (LSE:GAW.L), based in Nottingham, UK, produces the best fantasy miniatures in the world. Games Workshop designs, manufactures, retails, and distributes its range of Warhammer: Age of Sigmar® and Warhammer 40,000® games, miniatures, novels and model kits through more than 523 of its own stores (branded Warhammer), the www.games-workshop.com web store and independent retail channels in more than 50 countries worldwide. More information about Games Workshop and its other, related, brands and product ranges (including our publishing division 'Black Library' and our special resin miniatures studio 'Forge World') can be found at www.games-workshop.com
© Copyright Games Workshop Limited 2023. Warhammer, the Warhammer logo, GW, Games Workshop, The Game of Fantasy Battles, the twin-tailed comet logo, and all associated logos, illustrations, images, names, creatures, races, vehicles, locations, weapons, characters, and the distinctive likeness thereof, are either ® or TM, and/or © Games Workshop Limited, variably registered around the world, and used under licence. Developed by Creative Assembly and published by SEGA. Creative Assembly, the Creative Assembly logo, Total War and the Total War logo are either registered trademarks or trademarks of The Creative Assembly Limited. SEGA and the SEGA logo are either registered trademarks or trademarks of SEGA CORPORATION. SEGA is registered in the U.S. Patent and Trademark Office. All other trademarks, logos and copyrights are property of their respective owners.