Communiqué de Presse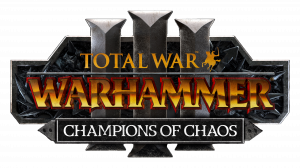 Champions of Chaos arrive dans Total War: WARHAMMER III à partir du 23 août prochain !

Quatre serviteurs des Dieux du Chaos s'affrontent dans une lutte sans merci qui bouleversera l'équilibre des forces pour toujours. Qui donc se montrera assez digne des dieux pour recevoir leur faveur et tracer son chemin jusqu'à l'ancienne ville et arène de Zanbaijin afin de s'emparer de sa puissance obscure ?

Champions of Chaos, le dernier DLC en date de Total War™: WARHAMMER III®, sortira le 23 août prochain. Digne des plus grands champions, ce pack de seigneurs inclut cette fois quatre nouveaux Seigneurs légendaires des Guerriers du Chaos au lieu de deux. Chacun d'entre eux répond aux ordres de l'un des Dieux du Chaos et de la Ruine. Prenez part à des campagnes dévastatrices et découvrez des mécaniques de jeu inédites et plus de cinquante nouvelles unités. Profitez également de contenus gratuits tels que la campagne d'envergure mondiale Empires Immortels.

Regardez la première bande-annonce ici : 

Quatre nouveaux Seigneurs légendaires du Chaos : 

Les Champions du Chaos ont gravi les échelons grâce à des actions plus innommables les unes que les autres jusqu'à devenir les serviteurs privilégiés des Dieux Sombres. Le premier d'entre eux n'est autre qu'Azazel, Prince de la Damnation. Véritable fléau de l'humanité depuis des temps immémoriaux, il a acquis une solide réputation auprès de Slaanesh, Dieu du Chaos de l'excès et de l'hédonisme, grâce à sa dévotion sans faille et à sa débauche perpétuelle.

Une nouvelle expérience de campagne : 

Au cœur de l'ancienne ville et arène de Zanbaijin, les serviteurs des Dieux du Chaos s'affrontent depuis des millénaires. L'Autel des Batailles, quant à lui, renferme à jamais les âmes damnées de ceux tombés au combat. En tant que Champion du Chaos, survivez aux bains de sang et accomplissez vos rituels si vous voulez prouver votre valeur à votre maître et espérer ainsi accéder à un grand pouvoir. 

Plus de cinquante nouvelles unités : 

Lors de leurs combats sanglants, les champions sont toujours accompagnés de leurs unités, parmi lesquelles : l'Autel de Guerre du Chaos qui sait récompenser les sacrifices à leur juste valeur, les Chevaliers du Chaos qui avancent en bloc, déchiquetant de leurs pointes et de leurs lames les rangs ennemis, et enfin les Élus, un groupe invulnérable de massacreurs d'élite formant le cercle intérieur des troupes de leur seigneur. 

Contenu gratuit : 

La nouvelle campagne à grande échelle Empires Immortels est disponible gratuitement pour les détenteurs des trois jeux Total War: WARHAMMER. Lancée sous forme de bêta en même temps que Champions of Chaos, elle regroupe des régions, des Seigneurs légendaires, des unités militaires et plein d'autres éléments de la trilogie en un seul mode grandiose qui s'étend à travers les vastes contrées du monde de Warhammer. 

Du sang pour le Dieu du Sang III :

Ce pack d'effets gores ajoute plusieurs séquences d'animations destinées aux adultes dans Total War: WARHAMMER III. Il comporte notamment des giclées de sang, des démembrements, des éléments d'interface sanguinolents, des événements de campagne pour encore plus de carnage lors des batailles et bien plus. Il sera gratuit pour les détenteurs des packs Du sang pour le Dieu du Sang I et II.  

Pour plus d'informations sur Champions of Chaos, Empires Immortels et Du sang pour le Dieu du Sang III, consultez le blog Total War ici. 

---

About Total War™:
With more than 37.8 million copies sold, Total War is one of the most established and critically acclaimed series in gaming. A drive for historical authenticity and superb gaming quality has helped establish the franchise as one of the most successful PC games of all time. Alongside the core historical-based games, the Total War series has expanded to include free-to-play mobile (Total War Battles™: KINGDOM), fantasy epics (Total War™: WARHAMMER®), and historical snapshots (Total War Saga™: THRONES OF BRITANNIA). www.totalwar.com 

About Creative Assembly:
Creative Assembly is one of Europe's leading games development studios, founded in 1987 and located in West Sussex, UK and in Sofia, Bulgaria. With a heritage of award-winning AAA titles, including the multi-million selling Total War™ series, Creative Assembly continues to build an impressive portfolio of games including the newly announced first-person shooter HYENAS and through world-renowned partnerships; with Games Workshop on Total War™: WARHAMMER®, Twentieth Century Fox on Alien: Isolation plus 343 Industries and Microsoft on Halo Wars 2. Creative Assembly has, with their exceptionally talented team of over 800, amassed a wealth of awards including multiple Best Place to Work awards and accolades from BAFTA, Music+Sound and Develop's Industry Excellent awards. www.creative-assembly.com 

About SEGA Europe Limited:
SEGA Europe Limited. is the European Distribution arm of Tokyo, Japan-based SEGA CORPORATION, and a worldwide leader in interactive entertainment both inside and outside the home. The company develops and distributes interactive entertainment software products for a variety of hardware platforms including PC, wireless devices, and those manufactured by Nintendo, Microsoft and Sony Interactive Entertainment Europe. SEGA wholly owns the video game development studios Two Point Studios, Creative Assembly, Relic Entertainment, Amplitude Studios, Sports Interactive and HARDlight. SEGA Europe's website is located at www.sega.co.uk.

About Games Workshop®:
Games Workshop® Group PLC (LSE:GAW.L), based in Nottingham, UK, produces the best fantasy miniatures in the world. Games Workshop designs, manufactures, retails, and distributes its range of Warhammer®: Age of Sigmar® and Warhammer® 40,000® games, miniatures, novels and model kits through more than 523 of its own stores (branded Warhammer®), the www.games-workshop.com web store and independent retail channels in more than 50 countries worldwide. More information about Games Workshop and its other, related, brands and product ranges (including our publishing division 'Black Library' and our special resin miniatures studio 'Forge World') can be found at www.games-workshop.com

© Copyright Games Workshop Limited 2022. Warhammer, the Warhammer logo, GW, Games Workshop, The Game of Fantasy Battles, the twin-tailed comet logo, and all associated logos, illustrations, images, names, creatures, races, vehicles, locations, weapons, characters, and the distinctive likeness thereof, are either ® or TM, and/or © Games Workshop Limited, variably registered around the world, and used under licence. Developed by Creative Assembly and published by SEGA. Creative Assembly, the Creative Assembly logo, Total War and the Total War logo are either registered trademarks or trademarks of The Creative Assembly Limited. SEGA and the SEGA logo are either registered trademarks or trademarks of SEGA CORPORATION. SEGA is registered in the U.S. Patent and Trademark Office. All other trademarks, logos and copyrights are property of their respective owners.