Pressemitteilung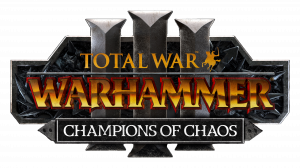 Champions of Chaos – ab dem 23. August in Total War: WARHAMMER III

Vier Diener der Chaosgötter kämpfen um die Vorherrschaft, um das Machtgleichgewicht zwischen ihnen für immer zu verändern. Wer von ihnen wird sich der Gunst der Götter würdig erweisen und sich seinen Pfad in die uralte Arenastadt Zanbaijin bahnen, um ihre arkane Macht für sich zu beanspruchen?

Champions of Chaos ist der neueste DLC für Total War™: WARHAMMER III® und erscheint am 23. August. In diesem Kommandantenpaket für den wahren Champion finden sich vier neue Legendäre Kommandanten der Chaoskrieger anstelle der üblichen zwei, und jeder von ihnen untersteht einem der vier zerstörerischen Chaosgötter. Begebt Euch mit neuen Spielmechaniken auf zerstörerische Kampagnen, stürzt das Schlachtfeld mit über fünfzig neuen Einheiten ins Chaos und genießt kostenlose Inhalte wie den weltenübergreifenden Kampagnenmodus Immortal Empires.

Zum ersten Trailer: 

Vier neue Legendäre Kommandanten der Chaoskrieger: 

Die Champions des Chaos sind dank ihrer berüchtigten Taten aufgestiegen und werden nun von den vier dunklen Göttern bevorzugt. Der erste von ihnen ist Azazel, Prinz der Verdammnis. Seit Anbeginn der Zeit ist er die Geißel der Menschheit und seine fortwährende Hingabe sowie seine Ausschweifungen haben ihm ein hohes Ansehen bei Slaanesh, dem Chaosgott des Exzesses und der Genusssucht, gesichert.

Ein neues Kampagnenerlebnis: 

In der uralten Arenastadt Zanbaijin kämpfen die Diener der Chaosgötter seit Jahrtausenden gegeneinander, und die Seelen der im Kampf Gefallenen sind im Altar der Schlacht versiegelt. Als Champion des Chaos müsst Ihr die Gunst Eures Meisters durch Blutvergießen und Rituale verdienen, bevor Ihr die arkane Macht Euer Eigen nennen könnt. 

Über fünfzig neue Einheiten: 

An der Seite ihrer Champions stürzt sich eine Armee aus unterschiedlichen Einheiten in den blutrünstigen Kampf – darunter der Kriegsschrein des Chaos, der jenen, die ein angemessenes Opfer darbringen, schreckliche Gaben verleiht, Chaosritter, die wie eine Wand aus Klingen und Stachelpanzern durch die feindlichen Reihen reiten und nur zerfetztes Fleisch hinter sich zurücklassen, und die Auserkorenen, eine gepanzerte Gruppe von Eliteschlächtern, die den inneren Zirkel der Kriegerschar ihres Kommandanten bilden. 

Kostenlose Inhalte: 

Immortal Empires ist ein neuer, groß angelegter Kampagnenmodus, der für Spieler, die alle drei Total War™: WARHAMMER®-Titel besitzen, kostenlos spielbar ist. Er erscheint zusammen mit Champions of Chaos in der Beta und vereint die Landmassen, Legendären Kommandanten, Kriegseinheiten und vieles mehr aus der Trilogie in einem kolossalen Modus, der sich über die riesige Warhammer-Welt erstreckt. 

Blut für den Blutgott III:

Dieses Paket mit blutrünstigen Effekten fügt Total War: WARHAMMER III verschiedene Animationen hinzu, die nur für Erwachsene geeignet sind – Blutspritzer, abgetrennte Gliedmaßen und Köpfe, blutige Benutzeroberflächenelemente, globale Kampagnenereignisse, die in Schlachten mehr Gemetzel verursachen, und vieles mehr. Kostenlos für alle Besitzer von Blut für den Blutgott I oder II.  

Weitere Informationen über Champions of Chaos, Immortal Empires oder Blut für den Blutgott III gibt es im Total War-Blog hier. 

---

About Total War™:
With more than 37.8 million copies sold, Total War is one of the most established and critically acclaimed series in gaming. A drive for historical authenticity and superb gaming quality has helped establish the franchise as one of the most successful PC games of all time. Alongside the core historical-based games, the Total War series has expanded to include free-to-play mobile (Total War Battles™: KINGDOM), fantasy epics (Total War™: WARHAMMER®), and historical snapshots (Total War Saga™: THRONES OF BRITANNIA). www.totalwar.com 

About Creative Assembly:
Creative Assembly is one of Europe's leading games development studios, founded in 1987 and located in West Sussex, UK and in Sofia, Bulgaria. With a heritage of award-winning AAA titles, including the multi-million selling Total War™ series, Creative Assembly continues to build an impressive portfolio of games including the newly announced first-person shooter HYENAS and through world-renowned partnerships; with Games Workshop on Total War™: WARHAMMER®, Twentieth Century Fox on Alien: Isolation plus 343 Industries and Microsoft on Halo Wars 2. Creative Assembly has, with their exceptionally talented team of over 800, amassed a wealth of awards including multiple Best Place to Work awards and accolades from BAFTA, Music+Sound and Develop's Industry Excellent awards. www.creative-assembly.com 

About SEGA Europe Limited:
SEGA Europe Limited. is the European Distribution arm of Tokyo, Japan-based SEGA CORPORATION, and a worldwide leader in interactive entertainment both inside and outside the home. The company develops and distributes interactive entertainment software products for a variety of hardware platforms including PC, wireless devices, and those manufactured by Nintendo, Microsoft and Sony Interactive Entertainment Europe. SEGA wholly owns the video game development studios Two Point Studios, Creative Assembly, Relic Entertainment, Amplitude Studios, Sports Interactive and HARDlight. SEGA Europe's website is located at www.sega.co.uk.

About Games Workshop®:
Games Workshop® Group PLC (LSE:GAW.L), based in Nottingham, UK, produces the best fantasy miniatures in the world. Games Workshop designs, manufactures, retails, and distributes its range of Warhammer®: Age of Sigmar® and Warhammer® 40,000® games, miniatures, novels and model kits through more than 523 of its own stores (branded Warhammer®), the www.games-workshop.com web store and independent retail channels in more than 50 countries worldwide. More information about Games Workshop and its other, related, brands and product ranges (including our publishing division 'Black Library' and our special resin miniatures studio 'Forge World') can be found at www.games-workshop.com

© Copyright Games Workshop Limited 2022. Warhammer, the Warhammer logo, GW, Games Workshop, The Game of Fantasy Battles, the twin-tailed comet logo, and all associated logos, illustrations, images, names, creatures, races, vehicles, locations, weapons, characters, and the distinctive likeness thereof, are either ® or TM, and/or © Games Workshop Limited, variably registered around the world, and used under licence. Developed by Creative Assembly and published by SEGA. Creative Assembly, the Creative Assembly logo, Total War and the Total War logo are either registered trademarks or trademarks of The Creative Assembly Limited. SEGA and the SEGA logo are either registered trademarks or trademarks of SEGA CORPORATION. SEGA is registered in the U.S. Patent and Trademark Office. All other trademarks, logos and copyrights are property of their respective owners.