Communiqué de Presse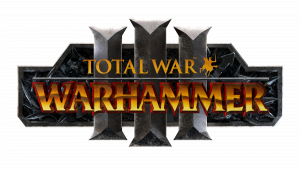 TOTAL WAR™: WARHAMMER® III est disponible !

Londres, le 17 Février 2022 – SEGA Europe Limited et The Creative Assembly™ Limited sont fiers d'annoncer le lancement de Total War™: WARHAMMER® III sur PC (Windows). La célèbre licence Total War prend ici des proportions époustouflantes et marque une évolution importante avec ce nouvel épisode. WARHAMMER III est inspiré du célèbre jeu de guerre sur table Warhammer Fantasy Battle de Games Workshop®.

Regardez la bande-annonce du lancement ici :

WARHAMMER III plonge les joueurs dans une lutte de pouvoir cataclysmique entre mortels et démons, chacun cherchant à sauver ou à exploiter le pouvoir d'un dieu mourant. Sept races sont jouables, dont les factions de Grand Cathay et de Kislev qui font leurs débuts dans le jeu vidéo, et de nouvelles fonctionnalités révolutionnaires comme la campagne Royaume du Chaos, le mode multijoueur à huit et le Seigneur légendaire Prince Démon aux options de personnalisation dignes d'un jeu de rôle font leur apparition. 

Le prologue de campagne est une toute nouvelle expérience Total War, idéale pour les nouveaux joueurs comme pour ceux qui souhaiteraient se rafraîchir la mémoire sur les mécaniques du jeu. Avec ce mode, les joueurs apprendront les techniques de base et avancées de l'art des généraux et s'engageront dans une expérience narrative qui les mènera peu à peu à la campagne principale. 

« Nous sommes incroyablement fiers d'avoir créé l'une des expériences de stratégie les plus exhaustives de l'histoire des Total War », a déclaré Ian Roxburgh, le Game Director du projet. « C'est peut-être le dernier jeu de la trilogie, mais ce n'est qu'un début pour le voyage immortel de Total War: WARHAMMER III. »

Le pack de race Ogre Kingdoms est également disponible à présent pour WARHAMMER III et introduit dès sa sortie deux Seigneurs légendaires supplémentaires dans le jeu. Les joueurs peuvent mener une armée de guerriers colossaux et de bêtes primales à la recherche de butin, d'or et de viande pour leurs panses insatiables. En guise de bonus offert aux acquéreurs de la première heure, ce contenu sera gratuit pendant la première semaine pour tous ceux qui possèdent WARHAMMER III. De plus, les abonnés au PC Game Pass qui lient leurs comptes Microsoft et Total War Access pendant cette période pourront également se joindre à la fête. Consultez la FAQ ici pour plus d'informations.

Avec plus de 37 millions de copies de Total War vendues à ce jour et plus de 1,5 million de joueurs actifs tous les jours, WARHAMMER III sort au zénith de popularité de la série. Le développeur Creative Assembly est désormais le plus gros studio du Royaume-Uni et il continue de s'agrandir, avec de nombreux nouveaux titres en développement.

Pour plus d'informations à propos de WARHAMMER III, rendez-vous sur la FAQ de Total War. Achetez directement auprès du développeur sur la boutique Total War: WARHAMMER III, sur le Microsoft Store, sur Steam, sur l'Epic Games Store ou jouez dès maintenant grâce au Xbox Game Pass pour PC.

---

About Total War™ 
With more than 37.8 million copies sold, Total War is one of the most established and critically acclaimed series in gaming. A drive for historical authenticity and superb gaming quality has helped establish the franchise as one of the most successful PC games of all time. Alongside the core historical-based games, the Total War series has expanded to include free-to-play mobile (Total War Battles™: KINGDOM), fantasy epics (Total War™: WARHAMMER®), and historical snapshots (Total War Saga™: THRONES OF BRITANNIA). www.totalwar.com 

About The Creative Assembly™ Ltd.
The Creative Assembly Ltd. is one of Europe's leading games development studios, founded in 1987 and located in West Sussex, UK and in Sofia, Bulgaria. With a heritage of award-winning AAA titles, including the multi-million selling Total War™ series, Creative Assembly continues to build an impressive portfolio of games and world-renowned partnerships; working with Games Workshop on Total War™: WARHAMMER®, Twentieth Century Fox on Alien: Isolation, plus 343 Industries and Microsoft on Halo Wars 2. Creative Assembly has, with their exceptionally talented team of over 700, amassed a wealth of awards, including multiple Best Place to Work awards and recent accolades from BAFTA, Music+Sound and Develop's Industry Excellence awards. www.creative-assembly.com

About SEGA® Europe Limited.
SEGA Europe Limited. is the European Distribution arm of Tokyo, Japan-based SEGA CORPORATION, and a worldwide leader in interactive entertainment both inside and outside the home. The company develops and distributes interactive entertainment software products for a variety of hardware platforms including PC, wireless devices, and those manufactured by Nintendo, Microsoft and Sony Interactive Entertainment Europe. SEGA wholly owns the video game development studios Two Point Studios, Creative Assembly, Relic Entertainment, Amplitude Studios, Sports Interactive and HARDlight. SEGA Europe's website is located at www.sega.co.uk.

About Games Workshop®
Games Workshop® Group PLC (LSE:GAW.L), based in Nottingham, UK, produces the best fantasy miniatures in the world. Games Workshop designs, manufactures, retails, and distributes its range of Warhammer®: Age of Sigmar® and Warhammer® 40,000® games, miniatures, novels and model kits through more than 523 of its own stores (branded Warhammer®), the www.games-workshop.com web store and independent retail channels in more than 50 countries worldwide. More information about Games Workshop and its other, related, brands and product ranges (including our publishing division 'Black Library' and our special resin miniatures studio 'Forge World') can be found at www.games-workshop.com

© Copyright Games Workshop Limited 2022. Warhammer, the Warhammer logo, GW, Games Workshop, The Game of Fantasy Battles, the twin-tailed comet logo, and all associated logos, illustrations, images, names, creatures, races, vehicles, locations, weapons, characters, and the distinctive likeness thereof, are either ® or TM, and/or © Games Workshop Limited, variably registered around the world, and used under licence. Developed by Creative Assembly and published by SEGA. Creative Assembly, the Creative Assembly logo, Total War and the Total War logo are either registered trademarks or trademarks of The Creative Assembly Limited. SEGA and the SEGA logo are either registered trademarks or trademarks of SEGA CORPORATION. SEGA is registered in the U.S. Patent and Trademark Office. All other trademarks, logos and copyrights are property of their respective owners.