Press Release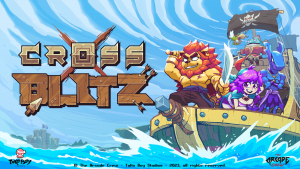 Tactical RPG deckbuilder Cross Blitz embarks on its journey into Steam Early Access on November 29

– Build the deck while looting a limited time launch discount –

Paris, November 14th, 2023 – Publisher The Arcade Crew (The Last Spell, Infernax)  and developer Tako Boy Studios announced that Cross Blitz, an all-new RPG deckbuilder with fast-paced tactical combat, is set to arrive on November 29 in Early Access on Steam. Strategy-lovers can nab a 10 percent discount on this inventive hybrid battler's €19.99 price by purchasing Cross Blitz ahead of November 28. 

Set sail for thrilling adventure in today's newly released gameplay trailer, showcasing a sneak peek at the exciting stories to be found in the 'Fables' story mode and the ever-changing challenge of the roguelite mode 'Tusk Tales'.

Heartfelt adventure meets fierce, strategic battles in Cross Blitz's 'Fables' mode, releasing next month, as you'll join a memorable cast of characters on their remarkable individual journeys. Join the fearless pirate Redcroft as he strikes a deal to win back his stolen freedom from a merciless princess, or aid the famous pop-star Violet in her search for an artifact to stop the evil escapades of a mysterious doppelganger hijacking her stardom.

During each hero's adventure, you'll explore a variety of distinct locations and meet a wide array of colorful characters, all while unlocking a wealth of new cards, abilities and relics. Use your treasure trove of strategic tools to craft the perfect deck that suits your preferred playstyle.

In the roguelite 'Tusk Tales' mode, face an endless challenge featuring five different playable mercenaries with seven different bosses to conquer, each with their own unique decks and relics. The challenges and possibilities in 'Tusk Tales' are endless – with new foes, cards, trinkets, and more to encounter on each randomized run. And completing a run is just the beginning, as you'll upgrade your characters to suit your preferred strategies and unlock new mercenaries with entirely unique starting cards. Shape your own adventure across randomized maps, while making important moment-to-moment choices as you craft an unstoppable deck!

Features: 

Deep Deckbuilding Strategy:

Build unstoppable decks from more than 200 cards, customizing and perfecting strategies to fit unique playstyles.

Thrilling Adventure:

Enjoy 30+ hours of thrilling adventure across different storylines as our heroes face a variety of trials and tribulations in the exciting story mode, 'Fables'.

Endlessly Replayable Challenge:

Brave the roguelite mode 'Tusk Tales' and venture through a randomized map filled with unique battles and choices to make, all while snagging powerful gameplay-changing trinkets and unlocking new tools to use on future runs. 

An Enthralling World:

Brimming with colorful characters, peculiar locales and delightful secrets,

Cross Blitz

is as fun to discover as it is to behold.

Following the debut of Cross Blitz's Early Access release, players will acquire a wealth of new content through future updates as Tako Boy Studios continues to evolve and develop the game ahead of its full release. To keep the latest updates on Cross Blitz on hand follow @TheArcadeCrew and @takoboystudios on Twitter.

---

About The Arcade Crew
With a gameplay first approach and high-quality focus, The Arcade Crew produces and publishes awesome indie and innovative games from creative teams from around the world. The Crew's iconic projects include Blazing Chrome and Vengeful Guardian Moonrider from JoyMasher, Infernax from Berzerk Studios, The Last Spell from Ishtar Games and Young Souls from 1P2P. The Crew is working on several new games for 2023 and beyond. The Arcade Crew is based in Paris as a separate division of Dotemu. 
Join the Crew at http://www.thearcadecrew.com.

About Tako Boy Studios
Co-founded in 2018 by Tom Ferrer and Phil Giarrusso, Tako Boy Studios is an independent game development studio dedicated to creating juicy games with colorful, quirky characters. By building upon their inspirations and infusing them with their own twists of creativity, they aim to make unique, memorable games oozing with charm.
Learn more at https://www.takoboystudios.com/.