Press Release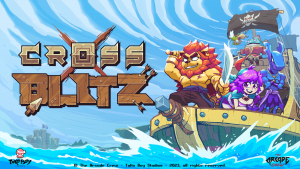 RPG deckbuilder Cross Blitz deals thrilling tales of grand adventure on PC in Early Access later this year

– Embark on an adventure in a vibrant, quirky world – all decks on hand! –

PARIS – May 25th, 2023 – Publisher The Arcade Crew (The Last Spell, Infernax, Blazing Chrome) and developer Tako Boy Studios today announced Cross Blitz, an RPG deckbuilder boasting strategic turn-based combat across a collection of interconnected, wondrous adventures as well as a separate, immensely replayable roguelite-style challenge, will make its way to PC in Early Access later this year.

Cross Blitz follows the zany tales of larger-than-life heroes, with each eccentric star boasting a unique playstyle and abilities when faced in fast matches of cards. Get ready to embark on an epic journey with today's announcement trailer that, showcases a sneak peek at both the story campaign and roguelite mode:

Cross Blitz features an expansive single player campaign following the charming individual journeys of its playable heroes, building a turn-based RPG around a rewarding core of card-battling combat. Players explore Crossdawn Isle, an endearing land packed with memorable characters and secrets. Throughout each hero's adventure, players unlock new abilities and access to distant regions through cleverly fought battles, crafting and earning a trove of strategy altering cards and perfecting decks customized to their preferred fighting styles. Cross Blitz's campaign spans more than 30 hours of adventures and encounters with outlandish and engaging characters in a beautiful, colorful pixel art world.

As a separately structured mode, Cross Blitz's Tusk Tales tours an ever-shifting island map for a hugely replayable challenge where no two outings progress the same way. Choose from unique mercenaries, build their arsenal while enduring an increasingly difficult barrage from opponents, and track down unique landmarks offering formative choices which can lead to salvation or doom.

Cross Blitz features:

Deep Deckbuilding Strategy:

Build unstoppable decks from more than 200 cards, customizing and perfecting strategies to fit unique playstyles.

Thrilling Adventure:

More than 30+ hours of rewarding questing awaits across the journeys, tribulations and discoveries of a

a

quirky, vibrant cast.

Endlessly Replayable Challenge:

Brave the roguelite mode 'Tusk Tales' and venture through a randomized map filled with unique battles and choices to make, all while snagging powerful gameplay-changing trinkets and unlocking new tools to use on future runs.

An Enthralling World:

Brimming with colorful characters, peculiar locales and delightful secrets,

Cross Blitz

is as fun to discover as it is to behold.

Following the debut of Cross Blitz's smooth, thoroughly polished combat in Early Access, players will amass a steady trove of riches through future updates as Tako Boy Studios continues to evolve the game ahead of its full release. To keep the latest updates on Cross Blitz on hand, wishlist the game on Steam and follow @TheArcadeCrew and @takoboystudios on Twitter.

---

About The Arcade Crew
With a gameplay first approach and high-quality focus, The Arcade Crew produces and publishes awesome indie and innovative games from creative teams from around the world. 

The Crew's iconic projects include Blazing Chrome and Vengeful Guardian Moonrider from JoyMasher, Infernax from Berzerk Studios, The Last Spell from Ishtar Games and Young Souls from 1P2P. The Crew is working on several new games for 2023 and beyond.

The Arcade Crew is based in Paris as a separate division of Dotemu. 

Join the Crew at http://www.thearcadecrew.com.

About Tako Boy Studios
Co-founded in 2018 by Tom Ferrer and Phil Giarrusso, Tako Boy Studios is an independent game development studio dedicated to creating juicy games with colorful, quirky characters. By building upon their inspirations and infusing them with their own twists of creativity, they aim to make unique, memorable games oozing with charm.

Tako Boy Studios is currently developing the turn-based RPG card battler Cross Blitz, following their previous release Candies 'n Curses."

Learn more at https://www.takoboystudios.com/.