Press Release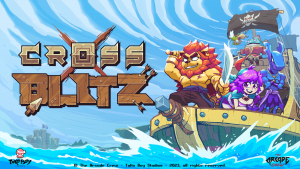 Draw a Grand Adventure One Card at a Time in Strategic Turn-Based Card Battler Cross Blitz – New Gameplay Overview Drops with Debut Demo Next Week

– Set Sail for Tense Battles and Legendary Treasure with a Fiery Pirate during Steam Next Fest (June 19 to 26) –

PARIS (June 15, 2023) – A trove of new gameplay footage and details from RPG deckbuilder Cross Blitz released today, touring the game's inventive hybrid of adventure with card-drawing combat from publisher The Arcade Crew (The Last Spell, Infernax, Blazing Chrome) and developer Tako Boy Studios. The footage's overview is helpfully led by Redcroft, the lively and mighty pirate at the heart of one of Cross Blitz's several spectacular journeys; let Redcroft chart out the trials and thrills which await through a new gameplay-focused trailer:

Cross Blitz's upcoming  first playable demo finds Redcroft braving a quest to obtain a lost relic, setting sail with his pirate crew to best any challenge or opposition which stands in their way. Build decks of cards to suit specific playstyles and devise unstoppable strategies while guiding this powerhouse of a pirate through encounters with quirky allies, peculiar shopkeepers and menacing foes in a world teeming with memorable secrets. Download the extensive playable debut of Cross Blitz next week as part of Steam Next Fest and help Redcroft prepare for a climactic showdown with Grubb, a wildly devious info broker awaiting the pirate's arrival:

The full version of Cross Blitz features:

Deep Deckbuilding Strategy:

Build devastatingly powerful decks from more than 200 cards, customizing and perfecting strategies to fit unique fighting styles.

Thrilling Adventure:

More than 30+ hours of rewarding questing across the journeys, tribulations and discoveries of a quirky, vibrant cast.

Endlessly Replayable Challenge:

Take on Tusk Tales' roguelite-style venture through a randomized map filled with unique battles and choices, all while snagging gameplay-changing trinkets and unlocking new tools to use on future runs.

An Enthralling World:

Brimming with colorful characters, distinct locales and delightful secrets,

Cross Blitz

's Crossdawn Isle

is as fun to explore as it is to behold.

Following the debut of Cross Blitz's smooth, thoroughly polished combat in Early Access, players will amass an embarrassment of riches through future updates as Tako Boy Studios continues to evolve the game ahead of its full release. To keep the latest updates on Cross Blitz on hand, wishlist the game on Steam and follow @TheArcadeCrew and @takoboystudios on Twitter.

---

About The Arcade Crew
With a gameplay first approach and high-quality focus, The Arcade Crew produces and publishes awesome indie and innovative games from creative teams from around the world. The Crew's iconic projects include Blazing Chrome and Vengeful Guardian Moonrider from JoyMasher, Infernax from Berzerk Studios, The Last Spell from Ishtar Games and Young Souls from 1P2P. The Crew is working on several new games for 2023 and beyond.

The Arcade Crew is based in Paris as a separate division of Dotemu. 
Join the Crew at http://www.thearcadecrew.com.

 

About Tako Boy Studios
Co-founded in 2018 by Tom Ferrer and Phil Giarrusso, Tako Boy Studios is an independent game development studio dedicated to creating juicy games with colorful, quirky characters. By building upon their inspirations and infusing them with their own twists of creativity, they aim to make unique, memorable games oozing with charm.

Tako Boy Studios is currently developing the turn-based RPG card battler Cross Blitz, following their previous release Candies 'n Curses."
Learn more at https://www.takoboystudios.com/.