Press Release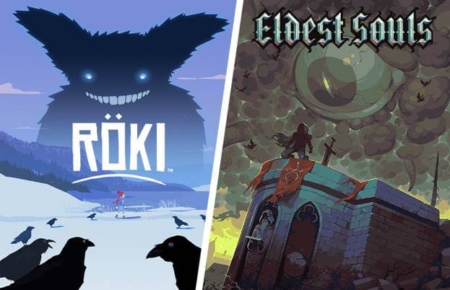 WARSAW, Poland – March 19th, 2020
 

Röki & Eldest Souls Bring Adventure and Ancient Gods To Steam Game Festival

– The Spring Edition of Steam's digital festival gives players an opportunity to play two indie games United Label will release this year. –
 

During the week that was formerly home to GDC 2020, United Label is proud to participate in the Steam Game Festival: Spring Edition, from now until March 23rd. This event will offer gamers the opportunity to download a free demo of the indie adventure Röki and boss rush action game Eldest Souls and play, starting today.

Röki is a poetic adventure game inspired by Scandinavian folklore. Check out the free demo here, only available for a few more days.

The hands-on experience will introduce players to Röki's hero, a young girl named Tove, as she journeys through the game's world and encounters creatures as she attempts to save her family. Röki is a game of brains over brawn, where players solve riddles, befriend monsters, and search for items hidden throughout. This demo is merely a sample of the adventure — players won't want to miss the rest when it arrives this year.

Röki continues to attract plaudits, featuring in many 'Most Anticipated Indie Games of 2020' lists (Polygon, Get Indie Gaming, The Indie Games Website, Eurogamer, LauraKBuzz, Gamecrate and many more) as well as being one of only a handful of titles selected for the inaugural Game Awards Steam Festival. 

United Label and Polygon Treehouse are taking a bit of extra time to make sure the team delivers the best version of this modern adventure game. New assets, including some brand new screenshots, can be found in the Röki press kit. 

Wishlist Röki on Steam: https://store.steampowered.com/app/1067540/Rki/

In Eldest Souls, the Old Gods have broken free from their long imprisonment, determined to wreak a terrible vengeance on all those who defied them. You play a lone knight, a great warrior, and the final hope of your civilization in the face of their wrath. Your mission: Slay them all. Eldest Souls will first come to PC and, as revealed during this week's Indie World showcase, Nintendo Switch in Summer 2020.

New assets, including some brand new screenshots, can be found in the Eldest Souls press kit. 

Wishlist the game on Steam and be sure to check out the free demo: https://store.steampowered.com/app/1108590/Eldest_Souls/

For more information about United Label games, head to UnitedLabelGames.com, follow the team on Facebook, join the conversation on Twitter, or speak with the team and get the latest updates in the United Label Discord channel.

 

About United Label
United Label is uniting innovative game creators from all around the globe. We strive to make any developer who joins United Label an integral part of the collective, fostering day-to-day support and growth. We want to create trustful long-term relationships with high rewarding returns. This all begins with four talented studios: Fallen Flag Studios, Lunaris Iris, Odd Bug Studios, and Polygon Treehouse. Our objective is to work with both highly experienced teams and passionate upstarts, offering them a publishing structure for success. For more information about United Label, please visit www.unitedlabelgames.com.

Polygon Treehouse
Based in Cambridge, UK, Polygon Treehouse is a new indie studio looking to make big things in the world of narrative video games.
Co-founded by two ex-Guerrilla Games/PlayStation Art Directors, Tom Jones and Alex Kanaris-Sotiriou, Polygon Treehouse creates adventures to feed your soul.
https://www.polygon-treehouse.com/

About Fallen Flag Studio
Fallen Flag Studio was founded by Francesco Barsotti and Jonathan Costantini after taking a break from their university studies in order to go full-time on the development of "Eldest Souls".
Eldest Souls is the first title of Fallen Flag Studio, a team of driven individuals based in London who are striving to give a new, unique spin to the souls-like genre. www.fallenflagstudio.com

About CI Games
CI Games is a worldwide publisher, developer and distributor of interactive entertainment. Headquartered in Warsaw, Poland with North and South American operations run from the New York office in the United States. CI Games has been in operation since 2002 and is listed on the main Warsaw Stock Exchange. CI Games portfolio includes the highly acclaimed multi-million seller Lords of the Fallen and the Sniper Ghost Warrior franchise with over 7 million copies sold worldwide. The company is currently working on a number of high-profile multiplatform games. For more information about CI Games, please visit www.cigames.com, follow the team on Facebook, or join the conversation on Twitter.