Press Release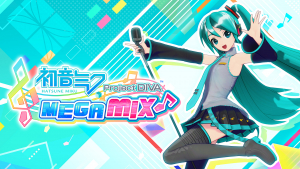 Nintendo News – Hatsune Miku: Project DIVA Mega Mix DLC Bundle 3 Debuts Today

– 72 Additional Songs from the Virtual Pop Icon Now Available Globally on Nintendo Switch! –

IRVINE, Calif. – August 24th, 2022 – Today, SEGA of America surprise launched DLC Bundle 3 for Hatsune Miku: Project DIVA Mega Mix on Nintendo Switch. DLC Bundle 3 contains 72 new songs to play and is available for $34.99 on the Nintendo Switch eShop. Groove to iconic hits such as Butterfly on Your Right Shoulder -39's Giving Day Edition-, Dreaming Leaf, Far Away, Innocence, Iroha Uta and so many more! 

DLC Bundle 3 requires approximately 20 gigabytes of free space on the Nintendo Switch to play. 

About Hatsune Miku: Project DIVA Mega Mix
In Hatsune Miku: Project DIVA Mega Mix, players take center stage in Hatsune Miku's premier rhythm game starring the world's #1 virtual pop star herself. From a stunner setlist of songs to an enormous wardrobe to style, it's the ultimate tour with Miku and friends — all it needs is you. 

For more information on Hatsune Miku: Project DIVA Mega Mix, visit the official website. 

---

About SEGA® of America, Inc.
SEGA of America, Inc. is the American arm of Tokyo, Japan-based SEGA CORPORATION, a worldwide leader in interactive entertainment. Established in 1986, SEGA of America publishes innovative interactive entertainment experiences for console, PC, mobile and emerging platforms. In 2020, SEGA ranked #1 among Metacritic's Annual Game Publisher Rankings. Its globally beloved franchises include Sonic The Hedgehog, Yakuza, Virtua Fighter, Super Monkey Ball, and Phantasy Star Online, along with Atlus' Persona and Shin Megami Tensei series. Since its debut more than three decades ago, Sonic has become a pop culture icon featured in dozens of games, TV series, and movies, with a new major motion picture currently slated for release later this year. SEGA of America has offices in Irvine and Burbank, California. Visit www.sega.com.