Press Release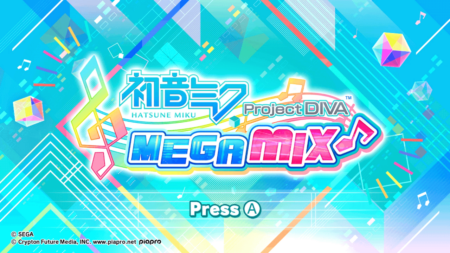 I
RVINE, Calif. – May 15th, 2020
Hatsune Miku: Project DIVA Mega Mix Lights Up the Nintendo Switch™ Stage Starting Today!

-Move to the Melody of the Mega Mix Magic-

The hit rhythm game series makes its grand return with exciting new features in Hatsune Miku: Project DIVA Mega Mix, now available exclusively on the Nintendo Switch eShop! 

Find out more in our launch trailer.

https://www.youtube.com/watch?v=matNCBZEFfk


We hope you're warmed up and ready to flex those digits. Along with the choice to play in either the traditional Rhythm Game or motion-based Mix Mode, Mega Mix features a third control option: Tap Play (accessible in Tabletop or Handheld Mode on the Switch), where you use the touch screen to tap along to your favorite songs! 

On top of the more than 100 hottest fan-favorite tracks, fans can also pick up the 'Mega Pack' €29.99! This bundle comes with 6 DLC song packs, each containing 6 songs, for a grand total of 36 additional songs! That's way more music than you can shake a leek at. Each song pack is also available individually for €6.99 each.

For those who missed out on the pre-order bonus, the 'Theme Song DLC Pack' containing playable versions of theme songs from previous Project DIVA titles will be free for all players beginning on 6/12:

The secret garden

by Kosaki Satoru

Look This Way

, Baby by ryo

Sekiranun Graffiti

by ryo

Yumeyume

by DECO*27

Hatsune Miku: Project DIVA Mega Mix is now available through the Nintendo Switch eShop for €39.99. You can also visit our official website at https://miku.sega.com/megamix/ for more information including the full 100-song list, additional gameplay and customization details, and screenshots!

About Hatsune Miku: Project DIVA Mega Mix:
Based on the popular Hatsune Miku: Project DIVA Future Tone, Hatsune Miku: Project DIVA Mega Mix takes the series to a new dimension on the Nintendo Switch, giving both new fans and Project DIVA veterans ways to play at home or on the go. Rhythm game modes feature both traditional button controls, as well as a new game mode exclusive to the unique functions of the Nintendo Switch™! 

Hatsune Miku: Project DIVA Mega Mix isn't just Miku's Nintendo Switch debut, it's also a major milestone for the Project DIVA series, introducing a redesigned graphical style. Fan-favorite songs like Senbonzakura and over 100 others have been reinvigorated with anime-style graphics. On top of that, a selection of songs never-before-seen in the Project DIVA series have also been added for Mega Mix, so fans can enjoy playing along with even more of their favorite tracks!