Press Release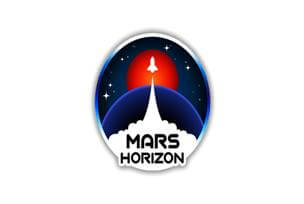 New 'Expanded Horizons' Update for Mars Horizon Brings Would-be Space Agency Pioneers Closer to the Final Frontier

– Star-crossed sim touches down on Epic Games Store alongside new sandbox mode, new Mars Perseverance-inspired missions and more –

LONDON – June 10, 2021 – (Ground control to) Major update: Publisher The Irregular Corporation and developer Auroch Digital today announced that hit space agency builder game, Mars Horizon, is landing on Epic Games Store alongside a new "Expanded Horizons" update on June 22 on all platforms that comes with a surplus of brand-new space-sized additions to take your journey to Mars to astronomical new heights.

Expanded Horizons includes an engaging new sandbox mode that will satisfy the most adventurous players, along with the new ultra-hard Iron Core mode – y'know, just in case sending a spacecraft to Mars wasn't challenging enough. Also included are new missions inspired by Mars Perseverance, additional achievements and other enhancements. 

Accompanying this update is a new 30% off sale on Epic Games Store, Xbox One, Steam and Nintendo Switch. Curious mission control operators can try out the game on Switch with a brand new demo coming soon to Nintendo eShop.

Launched last fall, Mars Horizon players take on the role of an administrator with control of their very own space agency at the dawn of the space age. Begin by building up your facilities with the end goal of touching down on the surface of Mars. Players will have to manage the resources of time, science, public support and, of course, funds, as they work to complete missions and safely send their astronauts into space. Players will also contend with other major space agencies who have the same goal, choosing to work together or venture out on their own. 

In Mars Horizon, the space race is back on and it's as real as ever with Expanded Horizons. During missions, players are faced with tense turn-based gameplay that determines their success or failure. Every single decision is critical. Do you spend power to fix a malfunctioning antenna or save it in case of an oxygen leak? Perhaps risking that extra three months of mission planning could have avoided this issue?

Launch over to Twitter and follow @AurochDigital and @IrregularCorp for updates. Additionally, head to the official site for more information.

---

About The Irregular Corporation
Part of the Epic Games family and inspired by the different passions of players across the world, The Irregular Corporation has been publishing unique and engaging games since 2015. With a focus on releasing exciting new experiences across a variety of genres, The Irregular Corporation is a global team of passionate industry professionals that use their experience to support independent developers and help realise the full potential of their games. Recently published titles include PC Building Simulator, Good Company and Mars Horizon, while upcoming projects include Going Medieval, Railgrade and Touch Type Tale.

About Epic Games
Founded in 1991, Epic Games is an American company founded by CEO Tim Sweeney. The company is headquartered in Cary, North Carolina and has more than 50 offices worldwide. Today Epic is a leading interactive entertainment company and provider of 3D engine technology. Epic operates Fortnite, one of the world's largest games with over 350 million accounts and 2.5 billion friend connections. Epic also develops Unreal Engine, which powers the world's leading games and is also adopted across industries such as film and television, architecture, automotive, manufacturing, and simulation. Through Unreal Engine, Epic Games Store, and Epic Online Services, Epic provides an end-to-end digital ecosystem for developers and creators to build, distribute, and operate games and other content.  

About Auroch Digital
An independent game development studio founded in 2010 and based in Bristol, UK. The studio works on original titles, partnerships, and work-for-hire projects, specialising in strategy and digital tabletop games. Auroch also has an interest in making games that relate to and deal with real-world issues.