Press Release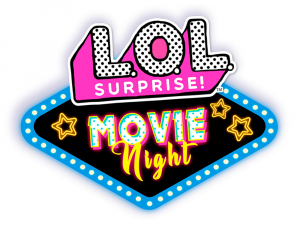 Highly Anticipated L.O.L. Surprise! Movie Night Red Carpet Premiere Has Arrived

– Nintendo Switch exclusive is now available at all major retailers –

EDISON, NEW JERSEY – October 29th, 2021 – L.O.L. Surprise!™ Movie Night is making its debut exclusively on Nintendo Switch™. From publisher Nighthawk Interactive and MGA Entertainment, Inc. (MGAE), the world's largest and fastest growing privately held toy company in the US. The latest videogame installment based on the award-winning L.O.L. Surprise!™ toy franchise is available for 44,99 € digitally on the Nintendo eShop and physically at major retailers worldwide, including Amazon and GameStop. Physical editions of the game come with one of six exclusive L.O.L. Surprise!™ Movie Night Charms, while supplies last.

In L.O.L. Surprise!™ Movie Night players create their own "Rising Star," performing on studio lots and trying to become the next big thing in L.O.L. Ville. They learn lines, "Strike a Pose," meet other "Stars" and play through a variety of filmset productions in the form of games and quests. It's a journey to stardom in a fun-filled 3D adventure set in the L.O.L. Surprise!™ universe. 

"L.O.L. Surprise! Movie Night brings to life beloved L.O.L. characters and their creative universe through detailed scenes and storytelling elements," CEO and Founder of MGA Entertainment, Isaac Larian, said, "Kids will love to discover fun features and surprises along the way." 

L.O.L. Surprise!™ Movie Night allows players to experience the game's Hollywood-esque lifestyle through: 

Lights! Camera! Action!

– L.O.L. Ville studio grounds are hustling and bustling with activities found on different filmset locations. Players can memorize scripts for the upcoming show, grab some movie theater popcorn, run away from ghosts at the spooky mansion, venture off on a desert excursion or set up production on a film set.

Live the lavish lifestyle

– After a long day on set, it's time to sit back and relax at home where players can decorate their apartment or wear the latest fashion and accessories using Glitter Tokens. 

But first, let me take a selfie

–

Movie stars need to glam it up for the camera. Players can take a selfie while wearing their favorite O.O.T.D. (Outfit of the Day) and customize pictures with colorful stickers and fabulous filters. 

Surprises galore

– Players will journey through the game to acquire an L.O.L. Surprise! Ball containing a plethora of goodies, including wallpaper, rugs, furniture and much more. 

L.O.L. Surprise!™ Movie Night is available for Nintendo Switch, digitally on the Nintendo eShop and at global retailers including Amazon and GameStop for 44,99 € starting today. The game is rated E for everyone by the ESRB.

More information can be found at www.lolsurprise.com, or on Instagram (@lolsurprise) and Facebook (@lolsurprise)! #collectlol 

---

About Nighthawk Interactive
Built by a team of industry veterans, Nighthawk Interactive aims to combine their proven experience with the ever-changing needs of modern game development. With a strong focus on publishing, co-publishing, and retail distribution, Nighthawk has built strong partnerships with some of the biggest brands in entertainment, along with many talented independent developers to deliver great experiences to gamers around the world. For more information about Nighthawk, visit www.NighthawkInteractive.com, and follow us on Twitter at (@NH_Interactive).

About MGA Entertainment
MGA Entertainment, a consumer entertainment products company headquartered in Chatsworth, California, creates innovative proprietary and licensed products including toys and games, dolls, consumer electronics, home décor, stationery and sporting goods. The MGA family includes award-winning brands such as L.O.L. Surprise!™, Little Tikes®, Num Noms™, Poopsie Slime Surprise!™, Bratz®, Rainbow High™, Na! Na! Na! Surprise™, Wreck Royale™, Baby Born Surprise™ and Zapf Creation®. Visit us at www.mgae.com.

# # #

*Source: The NPD Group / Retail Tracking Service/ January-December 2019. NPD's Global Toys footprint covers Australia, Belgium, Brazil, Canada, France, Germany, Italy, Mexico, Netherlands, Russia, Spain, United Kingdom, and United States.