Press Release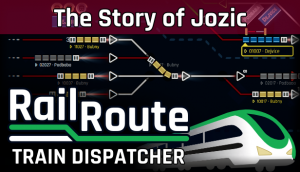 Free railway management simulator Rail Route: The Story of Jozic is a love letter to Prague

– 'The Story of Jozic' – a free, narrative-driven management title is an ode to Prague, the Czech Republic and railway dispatchers everywhere –

June 14th, 2022 – Prague, CZ: The first horse-drawn railway in history started its life in, what is now, the Czech Republic. Then, the first locomotive-drawn railway followed. It is in the Czech Republic—the home of developers, Bitrich.info—that Rail Route: The Story of Jozic is set. A completely free narrative experience, The Story of Jozic thrusts players into the world of an apprentice train dispatcher being shown the ropes by a mysterious mentor character, the nominal Jozic.

Set in Prague, The Story of Jozic features locations that any Prague native would instantly recognize. Featuring stations both new and old, and giving players the power to unlock those that they love the most (and that will help them build an efficient network!), locomotive-lovers can look forward to an authentically mapped experience.

Watch the trailer for Rail Route: The Story of Jozic:

"Prague is our hometown, and we wanted to create a game that showcases our love for it," Says Zdeněk Doležal, one of the developers of The Story of Jozic. "We wanted to pair the cathartic, soothing experience of our foundational game [Rail Route] with a story of intrigue and melancholy – providing a fresh experience for both new and current players, and one that accurately captures the atmosphere of Prague." 

 

Rail Route: The Story of Jozic will feature:

A fully-voiced narrative, featuring multiple unique characters alongside illustrated cut-scenes.

A full-fledged tutorial, giving players the chance to really dive into the Rail Route experience.

An all-new ability for players to choose from multiple-choice dialogue options.

Secret narrations, easter eggs and hidden paths abound!

 

Watch the cinematic trailer for Rail Route: The Story of Jozic here: 

 

The Story of Jozic looks not only to showcase the city of Prague, but also to highlight the work of train dispatchers everywhere – a field that Doležal sees as underrepresented in train simulation games. 

"We see so many train simulation games – but none of them focus on the work of the dispatchers, and really they're the key to us getting our trains on time!" Says Doležal. "The Story of Jozic puts a human face on these unseen dispatchers, putting the player in their shoes – and it can get pretty stressful at times!"

In keeping with this empathetic theme, The Story of Jozic uses gameplay systems inspired by the real-life software that train dispatchers use – creating a truly immersive experience, whilst retaining an easy-to-play, hard-to-master feel to the game.

Rail Route: The Story of Jozic will release on Steam on June 21st as a completely free-to-play experience, and a demo version is available now via the Steam Next Fest.

Play Rail Route: The Story of Jozic on Steam here.

Join the Rail Route community here:
Discord: https://discord.com/invite/avBjPqT
Twitter: https://twitter.com/railroutegame
Website: https://railroute.bitrich.info/ 

About Rail Route: The Story of Jozic
Every train needs a dispatcher—and, there's one dispatcher in particular that needs your help. In Rail Route: The Story of Jozic, you take on the role of an apprentice train dispatcher, loosely guided through the construction of your first, major rail network by a warm, albeit mysterious, mentor… Jozic. Though, his past is shrouded in mystery… And potentially dangerous. 

About Rail Route
Rail Route is a management & tycoon game inspired by the real-life work of railway dispatchers. Featuring multiple modes ('Endless Mode' – a sandbox game mode where players can infinitely expand their network, 'Timetable Mode' – a linear, puzzle-like game mode, and 'Rush Hour' – an intense, wave-based game mode that requires quick thinking and cunning on the part of the player), Rail Route offers a captivating experience for every type of player.

About Bitrich.info
Bitrich.info started as two friends working on a passion project. Now, just two years later, it has expanded into a vibrant team of developers, designers and musicians – all working to create the greatest dispatching game out there. Rail Route – their first title – boasts over 650 Steam reviews and a Discord community of 5000 loyal fans. Bitrich continues to provide regular updates to Rail Route as they chug their way towards the full release.