Press Release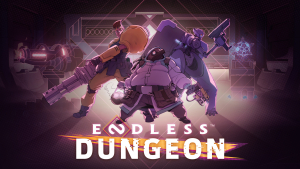 ENDLESS™ DUNGEON is now available for pre-purchase, crash lands on PC & consoles May 18th

– Plus, all pre-those who pre-purchase the Deluxe Edition on PC will get instant access to the "Final Rodeo" OpenDev, featuring a new hero: Comrade the Gunsmith. –

Paris, January 19th, 2023 – Humanoids, aliens, cyborgs, and the rest: it is with great pleasure and only slight trepidation that Amplitude Studios announce that ENDLESS™ Dungeon is now available for pre-purchase on Steam, Epic Games Store, Microsoft Xbox Series X|S, PlayStation 4, and PlayStation 5! 

ENDLESS Dungeon is the upcoming rogue-lite tactical action game. It's a top-down twin-stick shooter with a twist of tower defense. Assemble your band of heroes and make your way towards the core. And don't forget to protect your crystal — you'll need it to survive!

It might seem tough, but there's satisfaction to be gained in going just a little bit further each time, unlocking new weapons, heroes, and finding out the secret behind the black magic that keeps bringing you back every time you die… Check out the pre-order trailer here:

ENDLESS™ Dungeon will release on May 18th on PC, Xbox, and PlayStation. Pre-orders and release for Nintendo Switch will follow later!

Whether you're a die-hard PC player or a console aficionado, there's enough ENDLESS to go around! Digital and physical editions are available for pre-order via https://store.endlessdungeon.game, with some fantastic pre-launch bonuses and launch content available.

Pre-Ordering the ENDLESS Dungeon "Last Wish" Digital Edition on PC and Console will grant players early access to the game – 48 hours before launch, exclusive digital items such as a soundtrack featuring Lera Lynn and Arnaud Roy, a digital artbook, the "Pioneer Elite" skin pack and more. Additionally, players who pre-order the "Last Wish" Digital Edition on PC will gain access to the "Final Rodeo" OpenDev running from now until January 30th, and the pre-launch Closed Beta. 

For those looking for a physical version, there's a Day One edition available for pre-order while stocks last. This will come bundled with a physical version of the artbook, the Crystal Search card game along with digital items like the soundtrack and skin packs. Sounds like a lot, right? You can pick the version for you at https://store.endlessdungeon.game. Pre-ordering the physical edition will not grant access to the OpenDev, Closed Beta or Early Access. 

Pre-Order the "Last Wish" Digital Edition on PC and get instant access to play the "Final Rodeo" OpenDev

It's time to test your mettle against new environments and new monsters! OpenDev, is a series of time-limited, targeted, pre-release gameplay scenarios that act as the studio's way of collecting feedback from the community to help them shape the game.  

This is the third OpenDev session for ENDLESS™ Dungeon. It will run from now until January 30th. Amplitude Studios has incorporated some of your feedback from the first two, with many more changes still in the oven. 

Whether you've been with the game from the start or you're about to dive in for the first time, the studio is eager to get your feedback on how they can improve the game between now and the release on May 18th.  

The "Final Rodeo" OpenDev includes:

Explore the station in single-player or coop-multiplayer 

Run 4 different heroes through the gauntlet:

Comrade

(Gunsmith)

[NEW!]

,

Bunker

(Tank),

Blaze

(Artificer),

and Shroom

(Medic) 

Explore up to 4 different districts:

Astral Harbor

[NEW],

Procedural Factory

,

Devotion Garden

, and

Labor Colony
Discover new parts of the Saloon:

a workshop to modify your weapons, and beverages from the bar that change your playstyle

Fight against

15 different monsters

, elite monsters, and for the first time, something a bit scarier…

the Shelldiver

.

Best of luck, and see you on the other side!

---

About SEGA Europe Limited:
SEGA® Europe Limited is the European Distribution arm of Tokyo, Japan-based SEGA CORPORATION, and a worldwide leader in interactive entertainment both inside and outside the home. The company develops and distributes interactive entertainment software products for a variety of hardware platforms including PC, wireless devices, and those manufactured by Nintendo, Microsoft and Sony Interactive Entertainment Europe. SEGA wholly owns the video game development studios Two Point Studios, Creative Assembly, Relic Entertainment, Amplitude Studios, Sports Interactive and HARDlight. SEGA Europe's website is located at www.sega.co.uk

About Amplitude Studios SAS:
Amplitude Studios SAS is a team of experienced, quality driven video game lovers and creators of the finest strategy games with the help of our players! Founded in 2011 and acquired by SEGA in 2016, we are a team of over 120 developers based in Paris with an international team hailing from all over the world.

Our current titles in production include HUMANKIND™, a historical strategy epic where you'll be combining cultures as you lead your people from the Ancient to the Modern Era; and Endless™ Dungeon, a squad-based rogue-lite tactical action game. We're best known for our critically acclaimed Endless™ series, played by millions worldwide, including Endless Space, Endless Legend, Dungeon of the Endless, and Endless Space 2.

Our close relationship with the community is a core feature of the studio's philosophy. We're proud of the way we create games together with our players via Games2Gether, our custom-built community platform that enables our community to play a key role in the creation of our games at every stage of development.