Press Release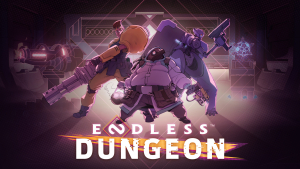 Keep your guns hot and your heads cool: ENDLESS™ Dungeon has announced its first OpenDev

– Starting now, players can apply to participate in the "First Run" OpenDev, which begins June 30th on Steam. –

Paris, June 13th, 2022  – Sunday evening at the PC Gaming Show Amplitude Studios were so very happy to announce that it's finally time for players to get their hands on a piece of ENDLESS™ Dungeon. Our upcoming rogue-lite, tactical action, tower-defense game is welcoming sign ups for the "First Run" OpenDev from today, ahead of its June 30th launch. If you want to be among the first to experience the action you can sign up here.

In ENDLESS™ Dungeon players are stranded on a mysterious abandoned space station. They'll need to recruit a team of heroes and make their way towards the core, all while protecting their crystal against never-ending waves of monsters. ENDLESS Dungeon is the spiritual successor to the hit game Dungeon of the ENDLESS™, but this time around we've introduced a new 3D art style and direct control of heroes. 

Watch the "First Run" OpenDev trailer:

What is OpenDev?

Getting feedback from their players has always been Amplitude Studios' way of creating the best games they can. That's why, 11 years ago, they designed the GAMES2GETHER platform to fill the missing link between the dev team and the players. 

More recently, as part of this philosophy, the studio introduced OpenDev, a series of targeted gameplay scenarios that act as a way of collecting feedback from the community to help the devs shape the game. 

Players selected to participate in the ENDLESS Dungeon "First Run" OpenDev will be granted access on June 30th to test the core loop of the game and provide us their feedback. 

What can I expect from the "First Run" OpenDev?

The "First Run" is free to enter but the number of players will be limited! In terms of content, players can expect:

Explore the station in single player controlling up to 3 unique heroes (note: the final game will be multiplayer up to 3 players) 

Face 10 monsters across 2 deadly districts of the dungeon 

Gear up with 13 weapons, 4 devices, and more upgrades 

Build 10 different turrets for added firepower and support

These are just a few elements that will be found in the full game, and the devs are looking forward to showing you so much more when the time comes!

Here's a reminder of where you can sign up: https://opendev.endlessdungeon.game

ENDLESS Dungeon will be coming soon to PC and Consoles. Learn more about the game at https://endlessdungeon.game.