Press Release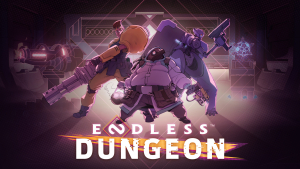 Back for more? ENDLESS™ Dungeon's "Second Chance" OpenDev starts now

– Has it gotten any easier? No. But hey, at least you can play co-op with friends now. –

Paris, November 17th, 2022 –  Well, it's about that time again. Grab some guns, lasso some friends, and get ready to venture into parts unknown! Today at the PC Gaming Show, Amplitude Studios were delighted to announce that they are opening a second wave of testing for the rogue-lite-tactical-action-tower-defense game ENDLESS™ Dungeon. 

Sign up via Games2Gether for the "Second Chance" OpenDev and test your mettle against new environments and new monsters. The playing field  has evened with new weapons, a new hero for your squad, and multiplayer co-op. So at least you won't die alone. 

While you await the inevitable, you can check out the brand-new trailer here:

What is OPENDEV? 

OpenDev is a series of time-limited, targeted, pre-release gameplay scenarios that act as Amplitude Studios' way of collecting feedback from the community to help them shape the game. 

This is the 2nd one for ENDLESS Dungeon, which means that the studio has incorporated some of your feedback from the first one, as well as added lots of "fun" new things for y'all to try. They can't wait to hear your thoughts! 

What can I expect from the "Second Chance" OpenDev?

The "Second Chance" OpenDev is free to enter. The number of players will be much less limited than the "First Run" OpenDev, though the studio can't guarantee that everyone will get in.  Here's what's new:

Multiplayer:

Play co-op with up to 3 players. Resources are shared between players, so you'll need to make some strategic group decisions. And hopefully stay friends. 

New Hero – Shroom

: The first support class character! She heals! She helps! She's cute! She has some weird herbal medicine that may or may not be legal!  

New monsters

: Not just new varieties, but the very first "Elite" monster. Want to fight your boss? Try fighting this one instead.  

New weapons

: Remember, different weapons work best against different types of monsters. A rule of thumb: when it comes to Bugs, kill them with fire. 

New environment

: Die in the Labor Colony, a "beautiful" new area of the station. 

These are just a few elements that will be found in the full game, and we are looking forward to showing you so much more when the time comes!

Here's a reminder of where you can sign up: https://opendev.endlessdungeon.game

ENDLESS Dungeon will be coming soon to PC and Consoles next year. Learn more about the game at https://endlessdungeon.game.