Press Release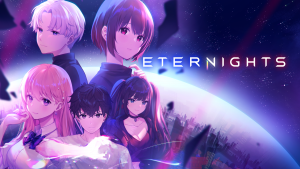 Dating action game Eternights matchmakes its way to PC and PlayStation consoles September 12

– Find love amidst the apocalypse a week sooner and the physical edition arrives for the holidays 2023 –

London, August 23, 2023 – Today, developer Studio Sai announced that the apocalypse will arrive early! Its upcoming blend of dating and monster slaying, Eternights, is set to launch on PC and PlayStation consoles September 12. In today's brand-new gameplay trailer, debuted during the Future Games Show, players can get a further sneak peek as relationships bloom and monsters fall:

In Eternights, the world we know is turned upside down when a mysterious event transforms people into violent monsters, layered amongst giant walls closing in the city. When your arm is replaced with a magical, shapeshifting replica, granting you strange powers, it's up to you to break through the wall to save the world… and your love life. Dates still happen during the apocalypse, and even when a surreal evil brings life as you know it crashing down, what matters most is the people around you.   

Spend your time in Eternights surviving trips into fiendish dungeons and intense real-time battles with monstrous foes. Utilizing your own magical abilities, and those of your companions, take these enemies down in stylish combos and alongside the survivors you bring into battle. But there are only so many hours in the day, and the apocalypse waits for no first kiss. How you spend the end of the world is up to you, but remember that every moment counts in Eternights.   

Distributed in partnership with Maximum Games, fans can also get their hands on a physical edition of the game for PS4 and PS5 releasing holiday 2023 from select retailers.  

Eternights is coming to star-crossed lovers on PlayStation 5, PlayStation 4 and PC (via Steam and the Epic Games Store) on September 12, 2023. For more information, visit http://www.eternights.com/.

# #

Related Links  

Website: https://www.studiosai.dev/eternights  
Twitter: https://twitter.com/StudioSaiGames  
YouTube: https://www.youtube.com/studiosaigames  
Facebook: https://www.facebook.com/studiosaigames/  
Discord: https://discord.com/invite/x44xJ4y 

---

About Studio Sai
Studio Sai is a small, fully remote, independent studio composed of a team of developers working together across several different countries. Our games are about the relationships you can forge inside slightly peculiar worlds. Sai means a relationship between 2 people in Korean but not just a relationship; it also means, in a poetic way, "distance" between 2 people.