Press Release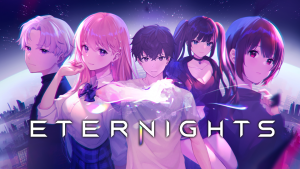 Press R2 to hold hands as love blooms in Eternights on PlayStation and PC in September

– Brand-new gameplay video debuted during Day of the Devs –

LONDON – June 9, 2023 – Independent developer Studio Sai today interrupted the Day of the Devs broadcast with an urgent message, Eternights is coming to PlayStation and PC in September – and you're needed to help take on the monsters that have taken over the population. Today's brand-new gameplay video showcases the horrors you'll be facing and the love you will have a chance to find:

In Eternights, you'll brave perilous dungeons steeped in mystery and danger while counting on your companions' unique skills and spells in battle. Strategically exploit enemy weaknesses through elemental attacks while skillfully dodging, parrying and unleashing powerful combos. Monsters won't be your only challenge; you'll have to survive traps, outwit puzzles, conquer mini-games and hold hands if you are to save the world in this heartfelt game where romance and action play an equal part.

With a mysterious event turning humanity into monsters obsessed with violence, surreal evil stands between players, a cure and the brighter future the world deserves. Eternights' gripping story is a race against time to stop a dark fate centered on a thoughtful examination of human connection and the intrinsic value of love. With scavenging, dungeon crawling and dating all on the to-do list, the clock is ticking – and choosing how to spend each precious remaining day counts.

Eternights will be available for the PlayStation 5, PlayStation 4 and PC (via Epic Games Store and Steam) in September 2023. For more information, visit http://www.eternights.com/.

Related Links
Website: https://www.studiosai.dev/eternights 
Twitter: https://twitter.com/StudioSaiGames 
YouTube: https://www.youtube.com/studiosaigames 
Facebook: https://www.facebook.com/studiosaigames/ 
Discord: https://discord.com/invite/x44xJ4y

---

About Studio Sai
Studio Sai is a small, fully remote, independent studio composed of a team of developers working together across several different countries. Our games are about the relationships you can forge inside slightly peculiar worlds. Sai means a relationship between 2 people in Korean but not just a relationship; it also means, in a poetic way, "distance" between 2 people.