Press Release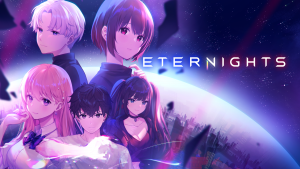 Find love amidst the apocalypse on September 21 in dating action game Eternights

– Watch relationships bloom and monsters fall in brand-new gameplay trailer from the PC Gaming Show –

LONDON – June 12th, 2023 – Developer Studio Sai are ready to play matchmaker in Eternights and hope you are too. In an all-new gameplay trailer revealed during the PC Gaming Show, the studio proudly revealed that the upcoming blend of dating and monster slaying is set to launch on PC and PlayStation consoles Sept. 21, 2023, with pre-orders on both platforms available starting today. 

PC players can start their quest to save the world (and to find a date) early, with a playable debut of Eternights launching during the next Steam Next Fest on June 19. Watch the brand-new gameplay trailer here:

In the gameplay trailer for Eternights, watch as the world we know is turned upside down when a mysterious event transforms people into violent monsters, layered amongst giant walls closing our protagonist's city in. After his arm is replaced with a magical, shapeshifting replica, granting him strange powers, it's up to you to save the world… and your love life. Dates still happen during the apocalypse, and even when a surreal evil brings life as you know it crashing down, what matters most is the people around you. 

Spend your time in Eternights surviving trips into fiendish dungeons and intense real-time battles with monstrous foes. With magical abilities of your own, take these enemies down in stylish combos and alongside the survivors you bring into battle. But there are only so many hours in the day, and the apocalypse waits for no first kiss. Take companions of your choice on dates, play mini-games and develop a relationship that could turn into something more, all while balancing the search for a cure and saving the world. How you spend the end of the world is up to you, but remember that every moment counts in Eternights. 


Eternights is coming to star-crossed lovers on  PlayStation 5, PlayStation 4 and PC (via Steam and the Epic Games Store) on September 21, 2023. For more information, visit http://www.eternights.com/.

Related Links

Press kit: https://drive.google.com/drive/folders/1y8MIorQr6TyoiLSvjkvotgSigjEIzcCV 
Website: https://www.studiosai.dev/eternights 
Twitter: https://twitter.com/StudioSaiGames 
YouTube: https://www.youtube.com/studiosaigames 
Facebook: https://www.facebook.com/studiosaigames/ 
Discord: https://discord.com/invite/x44xJ4y

---

About Studio Sai
Studio Sai is a small, fully remote, independent studio composed of a team of developers working together across several different countries. Our games are about the relationships you can forge inside slightly peculiar worlds. Sai means a relationship between 2 people in Korean but not just a relationship; it also means, in a poetic way, "distance" between 2 people.

.