Press Release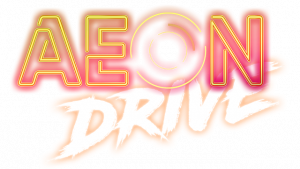 Cyberpunk Speedrunner Aeon Drive Out Now on PC, Xbox, PlayStation and Switch

– Retro 2D platformer zooms into worldwide release –

September 30th, 2021 – Leiden, The Netherlands – Developers 2Awesome Studio and publishers CRITICAL REFLEX today released their speedrunning platformer game, Aeon Drive. Available on PC, PlayStation 4, PlayStation 5, Xbox One, Xbox Series X/S, and Nintendo Switch. 

Aeon Drive plunges players into the ultimate action-packed challenge: 30 seconds of speedrunning mania across 100 levels! Players control Jackelyne, a stranded space ranger, as she darts and dashes her way through Neo Barcelona. Tasked with finding her Drive Cores so she can fix her ship and save the city, players can utilise Jackelyne's power sword, teleportation dagger and time-warping abilities to rush to a record-breaking finish. These abilities are useful in both gameplay modes: Story mode, for solo players or up to 4 player *local co-op; and Competitive PVP which supports up to 4 players going head- to-head.

*Although multiplayer modes (Co-Op and PVP) are only playable locally at launch, they will soon be available online in a patch releasing later this year. 

With Aeon Drive's Discord and Twitter integration and Global Leaderboards, players can compete with friends and fellow speedsters from across the globe. 

Over the last few weeks, Aeon Drive hosted an international tournament to find the fastest speedster of all time. Players could download a free demo and compete against anyone, including well-known speedrunners such as Distortion2, SpikeVegeta and Squillakilla. Watch the tournament finals on Aeon Drive's Steam page on the 30th September at 10am PDT (6pm BST).

Game features:

Ultimate replayability

– Each level has multiple routes to explore to find the fastest time possible.

Time-warping system

– Saves frustrating repetition and keeps players on their toes… although all levels can be completed without the time warping ability!

Challenging level design

– Levels will increase in difficulty and scale, requiring players to be constantly on alert, teleporting through lasers and slide-dashing at the last moment to avoid obstacles.

Retro pixel art –

Old school aesthetics combined with a modern style.

The protagonist of Aeon Drive is voiced by voice actress Kira Buckland, best known for her roles as 2B in Nier: Automata, Reimi Sugimoto in JoJo's Bizarre Adventure: Diamond Is Unbreakable, Trucy Wright in the Ace Attorney series, and Hiyoko Saionji in the Danganronpa series.

More information can be found on Steam, and for all Aeon Drive updates, follow us on Twitter!

---

About 2Awesome Studio
2Awesome Studio is an independent game development studio and indie publisher whose mission is to add awesomeness to reality by developing video games with new and addictive mechanics and finding games that are equally awesome to publish.

About CRITICAL REFLEX
CRITICAL REFLEX is an indie game publishing label on a mission: Find kick-ass games, make sure these games are at their best upon release, and put them in front of as many gaming fans as possible. Members of our team worked with a lot of successful indie projects, launched a dozen crowdfunding companies, and now we've come together to publish games that we love!