Press Release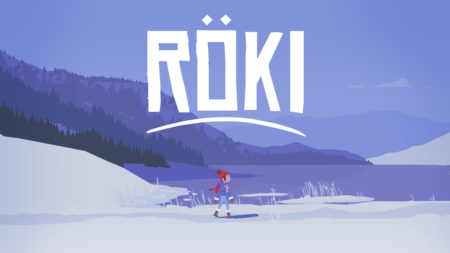 Contemporary fairy tale adventure Röki launches on PC Today

– This modern adventure hides a few curious twists in story and gameplay. –

Warsaw, Poland – July 23, 2020 — Polygon Treehouse and United Label are proud to officially launch Röki on PC today, opening the door to a beautiful game of adventure, courage, and folklore. Röki is available right now on Steam and GOG  and will release on the Nintendo Switch in the near future.

Röki is the debut game from Polygon Treehouse, headed by Tom Jones and Alex Kanaris-Sotiriou. Here's a message from Tom and Alex about their first launch as indies:

"For our debut indie title, we wanted to depart from the 'shooty-shooty' games we'd made at PlayStation and make the game about family, adventure, monsters, and kindness. When we started development three years ago the world was quite a different place, and we hope the game we've created and its themes are now more relevant and important than ever."

Röki sets players off on a journey through a dark contemporary fairy tale inspired by Scandinavian folklore in the shoes of the heroine Tove, a young girl touched by magic. Players will unravel the mysteries of a mystical forest and its hidden pathways, find curious items, engage with strange creatures, and journey into Tove's memories to directly confront her past as she attempts to save her family.

Röki Features:

A 12-15 hour adventure with a modernized vision for the genre

Beautiful handcrafted graphics

Challenging, but not unforgiving gameplay

Seek out clues and drag and drop items into the environment to solve inter-linked, intuitive, and memorable puzzles.

Missing the right tool for a puzzle? Combine the unique items you've discovered during Tove's journey to make new, useful items in a simple drag & drop craft system.

Open up Tove's journal, where she makes note of the uncharted regions uncovered, the loot collected, and unique badges earned throughout. The journal also serves as a window into the rich Scandinavian folklore Röki

is influenced by.

---

About United Label
United Label is uniting innovative game creators from all around the globe. We strive to make any developer who joins United Label an integral part of the collective, fostering day-to-day support and growth. We want to create trustful long-term relationships with high rewarding returns. This all begins with four talented studios: Fallen Flag Studios, Lunaris Iris, Odd Bug Studios, and Polygon Treehouse. Our objective is to work with both highly experienced teams and passionate upstarts, offering them a publishing structure for success. For more information about United Label, please visit www.unitedlabelgames.com.

About Polygon Treehouse
Based in Cambridge, UK, Polygon Treehouse is a new indie studio looking to make big things in the world of narrative video games.

Co-founded by two ex-Guerrilla Games/PlayStation Art Directors, Tom Jones, and Alex Kanaris-Sotiriou, Polygon Treehouse creates adventures to feed your soul. https://www.polygon-treehouse.com/

About CI Games
CI Games is a worldwide publisher, developer, and distributor of interactive entertainment. Headquartered in Warsaw, Poland with North and South American operations run from the New York office in the United States. CI Games has been in operation since 2002 and is listed on the main Warsaw Stock Exchange. CI Games portfolio includes the highly acclaimed multi-million seller Lords of the Fallen and the Sniper Ghost Warrior franchise with over 7 million copies sold worldwide. The company is currently working on a number of high-profile multiplatform games including Sniper Ghost Warrior Contracts 2, the action RPG sequel to Lords of the Fallen, and other yet unannounced titles. For more information about CI Games, please visit www.cigames.com.