Press Release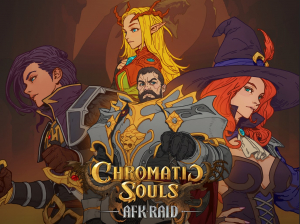 Chromatic Souls: AFK Raid Now Available on
Mobile Devices Worldwide

– Com2uS Holdings' New Web 3.0 Tactical RPG Delivers Unique Hand-painted Art Style and Gameplay Centered Around Mighty Rewards and Customization –

April 27, 2022 — The Kingdom of Rohan is in danger, and we need your help to save it! Starting today, players can join forces in Chromatic Souls: AFK Raid, the all-new, tactical RPG from Com2uS Holdings, the global mobile developer and publisher ushering in the future of interactive online entertainment, to take part in thrilling four-person battles and defeat fearsome monsters, all from their mobile devices. It is their first title to launch on C2X, a blockchain gaming platform heavily supported by Com2uS Holdings from its early stages. Chromatic Souls: AFK Raid is available as a free download on the Apple App Store and Google Play. 

Featuring unique hand-painted art style and animations, Chromatic Souls: AFK Raid will transport players to a mythical, medieval realm to become members of the Adventurer Alliance. Following the emergence of Chromatic Dragon, monsters are running rampant in the kingdom and players must eliminate them in order to save its civilians from certain destruction. As they start their journey, players will assume the role of a Knight, Mage, Rogue, or Druid, each boasting a series of unique skills and exclusive gear, so players must choose their role wisely.

As players adventure through the kingdom they can choose from the following play-styles:

Idle Mode

– Idle Mode allows players to take part in both single and party play. This means players can level up your characters – even while they are away from their phone.

Auto Battle Mode

– This mode grants players with various rewards, including useful items like Skill Scrolls and Iron Ores that will help them advance in their adventures. 

Boss Battle Mode

– Powerful bosses await! Players must defeat enemies that stand in their way to unlock the next stage to continue their journey. The further players go, the greater the danger and the greater the rewards. 

Chromatic Souls: AFK Raid leverages Com2uS Holdings' blockchain technology via the C2X blockchain ecosystem giving players the ability to craft, use and trade an array of equipment, skills, and character classes abilities while working with other players to gain the upper hand in battle. Even without any prior knowledge in digital tokens or NFTs, the game provides the players with a smooth introduction through progression. Players can earn in-game currencies, Mythril and Soul Stones, throughout the gameplay and use them to craft gears or purchase items in-game. Mytrills can also be converted to CST, a utility token of Chromatic Souls: AFK Raid, which then can be converted to C2X token, a governance token of the C2X ecosystem. Soul Stones can be directly converted to C2X token.

As they progress through the game, players can use eligible gears and tokens to mint NFT gear which is the most powerful gear in the game. Owning NFT gears provides several benefits to the players, including faster progression and additionally unlocked Dungeons to earn more Mythril. A digital wallet, C2X Station, provides a secure system for players to interchange in-game currencies and tokens and mint NFTs. C2X Station can be downloaded on Apple App Store and Google Play Store.

To commemorate the global launch of Chromatic Souls: AFK Raid, Com2uS Holdings will host 'NFT Public Sale' until May 3rd. A total of 3,000 NFTs will be sold during this limited time as an opportunity to acquire NFT gear. Users can make the purchase with C2X token ($CTX) on the 'NFT Public Sale' page.

For more information on Chromatic Souls: AFK Raid, please visit the official website here.

---

About Com2uS Holdings: 
Since its establishment in 2000, Com2uS Holdings has published games optimized for mobile devices enjoyed by over 115 million players with more than 70 top studios around the world. With offices in Los Angeles, Berlin, Tokyo, Beijing, Bangkok, Singapore, Taipei, Hanoi, Jakarta, and headquartered in Seoul, Com2uS Holdings has been able to craft numerous award-winning games with a diverse background through a deep understanding of the industry and each region. With newly added focus on creating an independent blockchain ecosystem, Com2uS Holdings continues to lead the sector with a commitment to establishing mobile gaming as a way of life. For more information, visit https://com2us.com/.