Press Release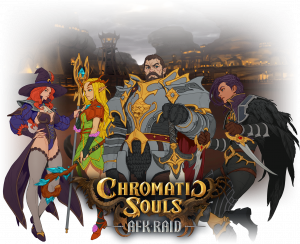 Tactical RPG Chromatic Souls: AFK Raid pre-registration goes live for iOS and Android

– Com2uS Holdings launches official website and community channels for their first blockchain game –

Berlin/Seoul, February 9th, 2022 – Global content provider Com2uS Holdings reveals its first blockchain game, Chromatic Souls: AFK Raid, a tactical RPG on mobile that stands out for its sensuous animation style, strategic party play and its use of NFT equipment as one of the game's features. The official website and community channels have been launched today, while pre-registration has begun on both the Apple App Store and the Google Play Store.

Chromatic Souls: AFK Raid sets players on a journey with friends into a vast medieval fantasy world of gorgeous graphics to defeat formidable bosses. Characters from four different classes can evolve with their own unique skills and gear: Knight, Mage, Rogue, and Druid. As the adventure unfolds, players can make use of various equipment, skills, and treasures to discover and to gain the the upper hand in battle. NFT equipment is a core element of the game and can be earned through crafting or trading. Players can also acquire game tokens unique to Chromatic Souls: AFK Raid by defeating vicious monsters throughout their adventures or other players. Development is underway so that these in-game tokens can be used as part of the C2X blockchain ecosystem. 

The new global website features a teaser video and main contents of Chromatic Souls: AFK Raid as well as information on NFT and game tokens to raise expectations of global users before the official launch. The annual roadmap is also released enabling users to check major plans at a glance. Pre-registration can be made through the website and special rewards such as 'Chromatic Scroll', 'Gold', 'Iron Ore', etc. will be given to pre-registered users. The latest news will be continuously updated on the website and can also be received as an email newsletter. The official community channels also have been opened for users around the world. Now players can interact with each other, share opinions, and gather information on the game through Discord, Twitter, and Medium.

Com2uS Group plans to add more than 10 blockchain-based titles to its line-up this year. In addition to powerful IP-based masterpieces proven in the global market such as Summoners War: Chronicles, World of Zenonia, Baseball Superstars, blockchain games from major partners such as The Great Merchant M, Hi Ella, Kritika Online, and Project Alchemist (tentative name) also fuel expectations.

For more information about Chromatic Souls: AFK Raid, please visit the official website and join the community channels.  

---

About Com2uS Holdings:
Since its establishment in 2000, Com2uS Holdings has published games optimized for mobile devices enjoyed by over 115 million players with more than 70 top studios around the world. With offices in Los Angeles, Berlin, Tokyo, Beijing, Bangkok, Singapore, Taipei, Hanoi, Jakarta, and headquartered in Seoul, Com2uS Holdings has been able to craft numerous award-winning games with a diverse background through a deep understanding of the industry and each region. With newly added focus on creating an independent blockchain ecosystem, Com2uS Holdings continues to lead the sector with a commitment to establishing mobile gaming as a way of life. For more information, visit https://com2us.com/.