Press Release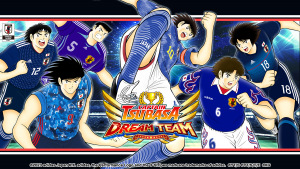 "Captain Tsubasa: Dream Team" 6th Anniversary Campaign Kicks Off! Tsubasa Ozora and Others Debut as New Players Wearing Past Official Uniforms of Japan's National Team!

Tokyo, Japan – June 2, 2023 – KLab Inc., a leader in online mobile games, announced that its head-to-head football simulation game Captain Tsubasa: Dream Team will be celebrating its 6th anniversary since its release on June 13. As a huge thank-you to the community for supporting this game, a 6th Anniversary Campaign will be held from Friday, June 2.

6th Anniversary Campaign Overview

From Friday, June 2, different campaigns will be held beginning with a Fight, Warriors in Blue: Japan National Team Transfer and a 6th Anniversary: Thank You Gift. The Fight, Warriors in Blue: Japan National Team Transfer will feature new players wearing the official uniforms of Japan's national team that previously appeared in-game. Users can receive up to 30 6th Anniversary: Big Thanks 10-Player Transfer Tickets from the 6th Anniversary: Special Login Bonus. Login multiple times during the event period to enjoy the campaigns!

A 6th Anniversary Special PV is now available on the official YouTube channel:

To read about all the events please check out this document here. 

About Captain Tsubasa
Created by Yoichi Takahashi, "Captain Tsubasa" is a Japanese manga that centers on the sport of football. Since premiering in Shueisha's landmark manga anthology Weekly Shonen Jump in 1981, the series has grown into a legend that has inspired and delighted countless football fans around the world for decades.

Even after the end of the initial serialization, the story has continued to evolve with new works highlighting the growth and development of main character Tsubasa Ozora. The series' popularity continues to thrive, with Captain Tsubasa Rising Sun finishing its appearance in Shueisha's manga anthology, Grand Jump in 2019, and a special issue called Captain Tsubasa Magazine began serialization in 2020.
The series has sold over 70 million volumes in Japan alone. Captain Tsubasa's popularity extends beyond borders, having been translated and published around the world in 20 languages, finding fans and winning the hearts of football lovers around the globe.

Overview of Captain Tsubasa: Dream Team
Title: Captain Tsubasa: Dream Team
Supported OSes: Android™ 4.4+, iOS 11.0+, HarmonyOS 2.0+
* Not available on some devices.
Genre: Head-to-head football simulation game
Released: June 13, 2017
Price: Free-to-play (In-app purchases available)
Supported Regions: Global (Excludes Japan and Mainland China)
Supported Languages: English, French, German, Italian, Spanish, Traditional Chinese, Arabic, Brazilian Portuguese, and Thai
Official Website: https://www.tsubasa-dreamteam.com/en
Official Twitter Account: @tsubasaDT_en
Official Facebook Page: https://www.facebook.com/tsubasaDTe
Official YouTube Channel:    https://www.youtube.com/channel/UCTgOPO7kIQ35YzB7SBIQoWQ
Official Discord Channel: https://discord.gg/6tyEs48
Copyright: ©Yoichi Takahashi/SHUEISHA 
©Yoichi Takahashi/SHUEISHA/TV TOKYO/ENOKIFILM
© KLabGames

Download here:
App Store: https://itunes.apple.com/app/id1293738123
Google Play: https://play.google.com/store/apps/details?id=com.klab.captain283.global
AppGallery: https://appgallery.huawei.com/#/app/C105375049

Android, Google Play, and the Google Play logo are trademarks of Google LLC. 

Apple and the Apple logo are trademarks of Apple Inc., registered in the U.S. and other countries. App Store is a service mark of Apple Inc., registered in the U.S. and other countries. 

All other trademarks or registered trademarks are the property of their respective owners.

---

About KLab
KLab is a leader in online mobile gaming. Founded in 2000 and headquartered in Tokyo, the company is listed on the 1st Section of the Tokyo Stock Exchange. KLab has consistently ranked as one of the top 52 grossing game publishers worldwide since 2012. With its emphasis on quality and innovative games, KLab continues to grow at a rapid pace, expanding beyond the Japanese market with an office in Shanghai. For more information about KLab, please visit http://www.klab.com/jp/english/.