Press Release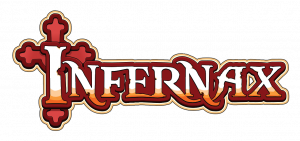 Your Date with Destiny Awaits in Retro Action Adventure Infernax, Now Available
for Date Night on Steam, Nintendo Switch, Xbox Series X|S, Xbox One, PlayStation 4, Game Pass, Xbox Cloud Gaming

– A Charmingly Challenging Adventure from the Creators of Just Shapes & Beats Channels Classically Satisfying Platforming in a Bloody Quest of Vengeance –

PARIS – February 14th, 2022 – The Arcade Crew and Berzerk Studio are excited to inform you that your date has arrived. The retro action-adventure splatterfest Infernax is here to sweep you off your feet and carry you over that puddle of gore. Launching today on Steam, Nintendo Switch, Xbox Series X/S, Xbox One, PlayStation 4, Xbox Game Pass, PC Game Pass, and Xbox Cloud Gaming, Infernax promises to woo you with all the challenge and carnage pixels can deliver in the classic NES-era style you know and love. The game launches with a 10% discount on both the eShop and Steam until February 20th, but just don't call it a cheap date.

Your dashing companion for the upcoming adventure is none other than Alcedor, young Duke of Upel, freshly returned from battle. Sadly, the land he has returned to is now a shadow of the home he left. Evil has cast a pall over this once prosperous place, and the people cower in fear of the unspeakable things that now ravage the countryside. This, of course, is most inconvenient. Join Alcedor as he gets knee-deep in problem-solving, to wrest control of these lands back from the forces of darkness.

Alcedor will face horrors beyond the ken of man, and hopefully liquefy them with his trusty mace as he leads a one-man crusade through the forces of the underworld. With secrets to unlock, powerful abilities to learn, and an assortment of spells in his arsenal, he'll be ready to face whatever lurks in the shadows and truly give em' hell. Along the way, his morals will be tested by difficult choices that will shape not only the fate of Upel, but the fate of Alcedor himself, leading to different gameplay paths. The challenge that lies ahead is not for the faint of heart, but Infernax offers both a classic hardcore mode, and a more forgiving (but no less challenging) casual mode, for maximum enjoyment no matter how you play.

Court the latest updates on Infernax by visiting www.infernax.com, and send your love to @TheArcadeCrew and @berzerkstudio by sharing all their posts on Twitter.

---

About the Arcade Crew

The Arcade Crew is based in Paris as a separate division of Dotemu. The boutique publisher is dedicated to producing and publishing awesome original games with a retro feel from small creative teams. The Crew is thrilled to discover and support new talents and create a real community around classic inspired titles. Get in touch with us at www.thearcadecrew.com and follow us on Twitter @TheArcadeCrew.

About Berzerk Studio

Founded in Quebec City in 2008, Berzerk Studio is an independent team committed to creating inventive, challenging experiences which balance humor and satisfying, high quality gameplay. Stay up to date with us and our games at www.berzerkstudio.com and follow us on Twitter @berzerkstudio and @infernax.