Press Release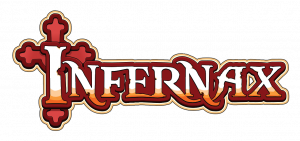 From the Creators of Just Shapes & Beats: Infernax, a Blood-Splattered, Demon-Slaying Retro Action Adventure Hitting PC, Nintendo Switch, Xbox Series X/S, PS4, and Xbox One in Q1 2022

 

PARIS (Oct. 21, 2021) – Publisher The Arcade Crew (The Last Spell, Young Souls) and developer Berzerk Studio (Just Shapes & Beats) today announce Infernax, a demon-slaying action adventure inspired by 8-bit retro classics, is bashing monsters into a spectacularly bloody pulp across PC, Nintendo Switch, Xbox Series X/S, PlayStation 4, and Xbox One in Q1 2022.

Infernax follows Alcedor, a famed knight who discovers an unholy magic has spread throughout his land while he was away. Armed with a skull-splitting mace and a trusty shield, Alcedor vows to obliterate the grotesque beasts roaming his home in an epic side-scrolling quest recalling the essence of classically difficult action adventure games. Watch Alcedor crack demons open and scatter their innards like meat confetti in today's new trailer: 

Alcedor gains experience and gold vital for obtaining powerups as he slaughters foes, leveling up stats and earning new skills and weapons to help paint the screen red with blocky splatters of blood. Morality-testing decisions made during his quest prompt consequences later in the adventure and influence which of the game's multiple endings players witness. Infernax's open world-style design is packed with secrets awaiting discovery by its most kickass players, offering a satisfying reward for those skilled enough to endure a brutal challenge.

To equip the latest updates on Infernax, bash over to infernax.com, wishlist the game on Steam, and swing a mace at @TheArcadeCrew and @berzerkstudio's follow buttons on Twitter.

---

About the Arcade Crew
The Arcade Crew is based in Paris as a separate division of Dotemu. The boutique publisher is dedicated to producing and publishing awesome original games with a retro feel from small creative teams. The Crew is thrilled to discover and support new talents and create a real community around classic inspired titles. Get in touch with us at thearcadecrew.com and follow us on Twitter @thearcadecrew.

About Berzerk Studio
Founded in Quebec City in 2008, Berzerk Studio is an independent team committed to creating inventive, challenging experiences which balance humor and satisfying, high quality gameplay. Stay up to date with us and our games at berzerkstudio.com and follow us on Twitter @berzerkstudio and @infernax.