Press Release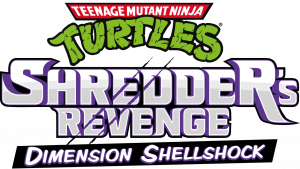 Teenage Mutant Ninja Turtles: Shredder's Revenge Dimension Shellshock launches on August 31 alongside free update, reveals Foot Clan outlaw Karai as a playable character

– New trailer showcases anti-heroine Karai in this anticipated DLC for One of the best modern beat 'em ups –

PARIS – August 16th, 2023 – Publisher Dotemu and developer Tribute Games, under license from Paramount Consumer Products, announced that the upcoming Teenage Mutant Ninja Turtles: Shredder's Revenge Dimension Shellshock DLC officially hangs ten August 31 on PC, Nintendo Switch, PlayStation consoles, and Xbox One (€7.99). Revealing fan-favorite Karai in an all-new trailer, fans can catch a glimpse of this former Foot Clan member as she charges enemies with lightning-fast moves alongside her four favorite Turtles. Separate from Dimension Shellshock, a second free update will also be released, offering an additional range of color palette options for all main game owners.

Dimension Shellshock brings two new playable fighters to the forefront of the action at launch later this month. Karai joins the razor-sharp Miyamoto Usagi, star of the Usagi Yojimbo comic book series and a fan favorite ally to the Turtles seen in previous cameos across the Teenage Mutant Ninja Turtles animated series and action figure releases. Karai's signature snark brings a bite to the fight alongside her deadly skills with her swift ninjutsu strikes. With Karai at your side there's no stopping the Turtles as they kick, punch and party their way across the various new worlds in Dimension Shellshock's rift-jumping battles.

The full DLC packs a punch for fans at launch featuring a new Survival game mode, fresh original music from the soundtrack's composer Tee Lopes, and alternative color schemes for playable fighters. Survival Mode introduces collectible crystals that allow you to jump from dimension to dimension, each with its own unique look and feel. 

The Dimension Shellshock DLC and upcoming update follow a previous free December release which added Custom Game options, giving fans extraordinary control over the way they kick shell through 11 mix-and-match modifiers along with retro-themed visual filters and an extra large serving of general refinements.

Nominated at The Game Awards 2022 for Best Action Game and Best Multiplayer, as well as for the DICE Awards' Outstanding Achievement for an Independent Game category and the BAFTA Games Awards for Family game and Multiplayer categories, Teenage Mutant Ninja Turtles: Shredder's Revenge immediately garnered praise upon release as a shell-kicking return to the classic TMNT universe as depicted in the 1987 cartoon. Teenage Mutant Ninja Turtles: Shredder's Revenge finds the Turtles racing to foil the menacing Shredder's latest scheme, with the heroes in a half shell battling the infamous villain's forces throughout an adventure recalling TMNT's most memorable locales and moments. The Turtles, Master Splinter, April O'Neil and Casey Jones stand as Manhattan's gnarliest heroes, harnessing unique abilities in a modernized revitalization of the Turtles' signature agile style of brawling combat playable in local & online co-op by up to six players.

Teenage Mutant Ninja Turtles: Shredder's Revenge is developed by Tribute Games and published by Dotemu.

For more TMNT gaming updates, visit Teenage Mutant Ninja Turtles: Shredder's Revenge official site, wishlist the game on Steam, follow @Dotemu and @TributeGames on Twitter, and join the Discord.

---

About Dotemu
Dotemu is a French video game company specializing in bringing back the best video games and legendary pop culture licenses on PC and modern consoles, to create neo-retro experiences carefully crafted for fans around the world.
The Dotemu team has published and developed a number of global top-sellers across both PC and console including the award-winning games Teenage Mutant Ninja Turtles: Shredder's Revenge, Streets of Rage 4, Wonder Boy: The Dragon's Trap, other great development and publishing work from Dotemu includes Windjammers 1 & 2, Pharaoh: A New Era and more. Dotemu is currently working with Leikir Studio on Metal Slug Tactics with more announcements planned for later 2023 and beyond. 
Learn more at http://www.dotemu.com.


About Tribute Games
Tribute Games is a studio developing and publishing video games with a focus on pixel art and classic game design. The Montreal-based studio has been steadily creating entertaining, challenging and retro-inspired games since 2011 using modern game development processes and technology. In 2020, Tribute Games announced the start of a publishing division to help smaller developers publish their game.
https://tributegames.com/


About Nickelodeon
Nickelodeon, now in its 44th year, is the number-one entertainment brand for kids. It has built a diverse, global business by putting kids first in everything it does. The brand includes television programming and production in the United States and around the world, plus consumer products, digital, location-based experiences, publishing and feature films. Nickelodeon is a part of Paramount's (Nasdaq: PARA, PARAA) global portfolio of multimedia entertainment brands.

About Paramount Consumer Products
Paramount Consumer Products oversees all licensing and merchandising for Paramount (Nasdaq: PARA, PARAA), a leading global media and entertainment company that creates premium content and experiences for audiences worldwide. Driven by iconic consumer brands, Paramount Consumer Products' portfolio includes a diverse slate of brands and content from BET, CBS (including CBS Television Studios and CBS Television Distribution), Comedy Central, MTV, Nickelodeon, Paramount Pictures and SHOWTIME®. With properties spanning animation, live-action, preschool, youth and adult, Paramount Consumer Products is committed to creating the highest quality product for some of the world's most beloved, iconic franchises. To view our range of consumer products and Paramount branded apparel, visit ParamountShop.com.