Press Release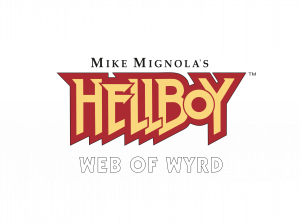 Stylish action-brawler Hellboy Web of Wyrd punches you directly in the face on October 4

– See Hellboy kick mythological ass in a brand-new, fantastical story trailer based on series creator Mike Mignola's award-winning Hellboy comics published by Dark Horse Comics. –

August 23rd, 2023 – Cologne, Germany – GAMESCOM – Global video game publisher Good Shepherd Entertainment's highly anticipated, action brawler videogame Hellboy Web of Wyrd, will unleash a howling good time when it lands on PC, PlayStation 4, PlayStation 5, Xbox One, Xbox Series X|S and Nintendo Switch on October 4. Based on series creator Mike Mignola's Hellboy graphic novels published by Dark Horse Comics, the game features an original storyline crafted in collaboration with Mignola, as well as the renowned voice talents of Lance Reddick as Hellboy himself. Mignola has also designed the game's unique key art.

Hellboy fans get a close-up seat with today's launch date trailer as Hellboy hurls himself through a gateway into The Wyrd: a visually beautiful but unsettling world of brutal enemies, animated statues and almost unbeatable monsters – all hellbent on killing him. Seeking out the few friends you can find in The Wyrd, and glean whatever information you can before you go toe-to-hoof with monstrous challenges that threaten to keep Hellboy trapped forever:

Like the comics, Hellboy Web of Wyrd sends Hellboy on a series of vastly different and wholly unique adventures; all tied to the mysterious legacy of The Butterfly House. When an agent of the B.P.R.D. is sent on a reconnaissance mission to the mansion and promptly goes missing, it's up to you – Hellboy – and your team of Bureau agents to find your missing colleague and uncover the secrets of The Butterfly House. Chain together hard-hitting melee and ranged attacks to fight a diverse array of increasingly nightmarish enemies in this incredible new entry in the Hellboy universe. 

Hellboy Web of Wyrd is an original story created in partnership with Dark Horse Comics. Keep up to date on all things Hellboy Web of Wyrd and Good Shepherd by following them at @GoodShepherdEnt or www.goodshepherd.games.

---

About Good Shepherd Entertainment
Good Shepherd Entertainment is an award-winning independent game publisher based in the Netherlands. The company has built a robust global footprint, shepherding talented development teams to create impactful games that innovate, challenge, and – most importantly – entertain. We've done this by pairing creators with writers, musicians and IP powerhouses and through strategic partnerships with some of the industry's most notable names, including Devolver Digital, Croteam and Perfect World. In addition to the acclaimed John Wick Hex and Monster Train, GSE's selection of titles includes Hellboy Web of Wyrd, Showgunners, Phantom Doctrine, the Transport Fever series, and the Hard West series. For more information, visit www.GoodShepherd.games.

About Dark Horse Comics
Founded in 1986 as an offshoot of his comics retail chain, Mike Richardson launched Dark Horse Comics with the goal of creating a welcoming environment for comics professionals. The company strives to be an example of how integrity and innovation can broaden a unique storytelling medium and transform a company with humble beginnings into an industry giant. Dark Horse has published the work of many of the greatest talents in the industry, past and present. The company also set the industry standard for quality licensed comics, graphic novels, collectibles, and art books based on popular film and gaming properties. Dark Horse established an entertainment division in 1989, finding success with company-owned projects The Mask and TimeCop. Additionally, Dark Horse has a long tradition of establishing new creative talent throughout all of its divisions. In 2022, Dark Horse Media, LLC was established as the parent company of all three divisions, and became part of Embracer Group AB, forming the tenth operative group, strengthening the company's transmedia capabilities.

About Upstream Arcade
Upstream Arcade is an independent games studio Founded by BAFTA winning developers from Lionhead studios with over 20 years of experience making games. Since Upstream Arcade's creation, we have expanded to a talented team of 15 lovely individuals. We are lucky enough to make the games we want to play – original action gameplay with a heavily stylistic flair.