Press Release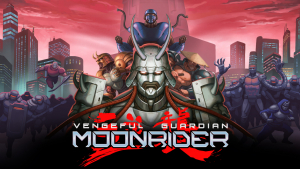 Slice Through a Brutal Totalitarian State as a Cyborg Ninja in the Classically Styled Action Platformer Vengeful Guardian: Moonrider, Reaching PC, Switch, PlayStation, Amazon Luna This Fall

– A Modernized Tribute to Classic Action Games from the Creators of the Critically Acclaimed Run-and-Gun Shooter, Blazing Chrome –

PARIS, August 18th, 2022 – Publisher The Arcade Crew (Infernax, Young Souls, Blazing Chrome) and developer JoyMasher (Blazing Chrome) today unsheathed Vengeful Guardian: Moonrider, a side-scrolling action platformer channeling the golden age of classic 16-bit action games in a refined, full-throttle quest for revenge. This duo of retro experts is bringing Vengeful Guardian: Moonrider's fight to Steam, Nintendo Switch, PlayStation consoles, and Amazon Luna in Fall 2022.

Lock on to Vengeful Guardian: Moonrider's announcement trailer and get a glimpse of its immensely powerful forces of evil awaiting a showdown: 

Vengeful Guardian: Moonrider's design holds the best classic action game elements in the laser-precise sights of its starring ninja, keeping combat snappy, responsive and challenging. Powerful modifier chips are guarded and hidden throughout the adventure, allowing the cyborg super soldier to customize its fighting style while gaining killer advantages and abilities. The game's gorgeously bleak world expertly recreates the 16-bit era through intricate pixel art and crunchy audio, building a striking, compact gauntlet across eight deadly stages. Vengeful Guardian: Moonrider revels in top-notch, refined platforming action for a tight, focused experience that never lets its blade get dull.

Humanity finds an unlikely hero in Vengeful Guardian: Moonrider's oppressed world; authoritarians have built super soldiers as weapons of war, but their creators have sealed their fate by bringing the warrior known as Moonrider online. Conceived as a tool to uphold a totalitarian state, the Moonrider has rejected its intended purpose, instead choosing a relentless battle for vengeance against its creators and fellow super soldiers.

Join JoyMasher in studying the blade by visiting www.joymasher.com, follow @TheArcadeCrew and @JoyMasher on Twitter, and join the super soldier-hunting resistance on Discord.

---

About The Arcade Crew
The Arcade Crew is based in Paris as a separate division of Dotemu. The boutique publisher is dedicated to producing and publishing awesome original games with a retro feel from small creative teams. The Crew is thrilled to discover and support new talents and create a real community around classic inspired titles. Get in touch with them at https://www.thearcadecrew.com/ and follow them on Twitter @thearcadecrew.

About JoyMasher
JoyMasher is an independent Brazilian-based studio which has created retro-inspired games since its formation in 2012. Comprised of developers Danilo Dias and Thais Weiller, JoyMasher has previously released the critically acclaimed Blazing Chrome, as well as Odallus and Oniken, offering modernized takes on the classic side scrolling shooter and action adventure genres which would feel at home on a classic console. JoyMasher is currently preparing its fourth release in the classically inspired action platformer Vengeful Guardian: Moonrider for PC and consoles.