Press Release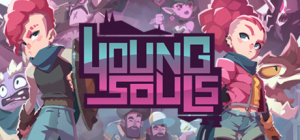 RPG Beat-Em-Up Young Souls Slaying Goblins Today on PC, Nintendo Switch, PlayStation 4, Xbox One, and Game Pass with 10 Percent Launch Discount Equipped

– Twin Misfits Brave Surreal Dangers to Save Their Beloved Guardian and the Greater World –

PARIS – March 10th, 2022 – Publisher The Arcade Crew and developer 1P2P Studio today released Young Souls, a co-op ready RPG beat-em-up starring teen misfits saving their loved one and the world from an army of goblins, on Steam, Nintendo Switch, Xbox One, PlayStation 4, and Game Pass for Xbox & PC. Agile brawlers can loot a 10 percent discount from the €24.99 launch price on all platforms until March 17th (PlayStation adventurers will need a PS+ account to receive the discount). Young Souls is also playable on PlayStation 5 and Xbox Series X/S via backward compatibility.

Young Souls follows the battles of Jenn and Tristan, twins saved from abandonment by a caring scientist, as they search for their mysteriously vanished guardian. After discovering a portal to another world and the incredibly powerful forces prowling beyond it, the twins take up arms to rescue their guardian along with life as we know it in a touching journey. Join our spritely saviors in skull-slamming action by watching today's launch trailer: 

Young Souls Features:

Goblin-Bashing Battles:

Take down hordes of menacing minions and incredibly powerful bosses in weighty, satisfying brawling inspired by classic sidescrollers

A Narratively Rich World:

Join headstrong teens Jenn and Tristan in a quest to save the person dearest to them from surreal, otherworldly evil 

Gorgeous Visuals:

Soak in beautiful environments while exploring a lively neighborhood and a dangerous, uncharted world

Co-Op Action:

Brave battle against hordes of foes with a trusted ally in co-operative play, or go it alone as by tagging the twins in and out of battle

Hordes of Loot:

Unlock and upgrade hundreds of weapons, armor sets, and accessories, establishing your own personal goblin-slaying style

Quaint Small Town Life:

Meet your neighbors, hit the gym, and pick up some new kicks in town as you recover and prepare for another night of battle

For the latest on Young Souls, please visit the official website, wishlist the game on Steam, and follow 1P2P on Twitter @1P2PStudio. Keep up with The Arcade Crew's full lineup by checking TheArcadeCrew.com and following them on Twitter @TheArcadeCrew.

---

About the Arcade Crew

The Arcade Crew is based in Paris as a separate division of Dotemu. The boutique publisher is dedicated to producing and publishing awesome original games with a retro feel from small creative teams. The Arcade Crew is thrilled to discover and support new talents and create a real community around classic inspired titles. Get in touch with us at thearcadecrew.com and follow us on Twitter @thearcadecrew.

About 1P2P Studio

1P2P was founded in 2017 by Jérôme Fait and Baptiste Martin, former Ankama devs. If Young Souls is their first game as an indie studio, these awesome guys have more than 12 years of experience in the video games industry. They are behind Inside My Radio – winner of Ludum Dare 23.