Media Alert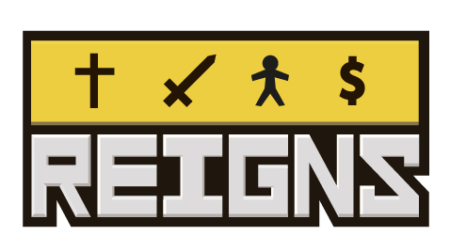 Twitch – August 23rd, 2016
 

Twitch Plays REIGNS!

 

Smash hit indie game Reigns has released Twitch Plays integration today for fans. A sideswiping adventure in monarchy à la Tinder, the card-based kingdom builder developed by UK-based Nerial and published by Devolver Digital is enjoying rave reviews among press and in its launch week after releasing for iOS, Android, and PC.

Twitch Plays integration uses the stream's chat to vote in real time on the decisions with each new card. All viewers see the votes appear on screen and the cards lean toward the winning direction until its pushed all the way over. The streamer can take control at any time to make the decisions alone or let the chat votes play out.

Twitch Plays integration instructions can be found at reignsgame.com or below:

1)  Generate a key at https://twitchapps.com/tmi

2)  Launch Reigns on PC and hold 'T' for 5 seconds during gameplay

3)  Enter Twitch username and auth key

4)  Start broadcasting!

If you didn't get that, check out the graphic below:

For more information on Reigns hit up http://reignsgame.com or @ReignsGame on Twitter. In the first week of launch, the game's success sees it nearing $1M in revenue – codes are available if you haven't checked it out yet. Thanks much and have fun ruining your kingdom!

More press releases and hot news from Devolver Digital are available here.