Press Release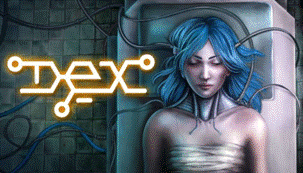 QubicGames and Red Art Games announce limited-edition physical release on Nintendo Switch for DEX, the 2D action-RPG

– Pre-order from July 23rd! Available Q4 2020. –

France – July 21, 2020 – Publisher Red Art Games, in partnership with independent developer and publisher QubicGames, is proud to announce that DEX, the upcoming 2D cyberpunk action-RPG, will receive a limited-edition physical release for Nintendo Switch later this year in Q4 2020. Limited to only 2,800 copies, the game will be available for pre-order from July 23rd for 29.99€.

Explore, fight, talk and hack your way through a rich and vibrant cyberpunk world. Wanted dead by a mysterious and far-reaching organization, you will traverse the futuristic city of Harbor Prime and make unexpected allies on your quest to bring down the system! In this cyberpunk adventure inspired by Blade Runner and Neuromancer, you are free to choose your playstyle: will you be a silent assassin, a hacker, a diplomat or a straightforward gunfighter?

To find out more, visit the Red Art Games website!

---

About Red Art Games
Founded in January 2018, Red Art Games is a French video game publishing company. It offers physical versions of video games only available in digital and in limited edition. The games presented on Sony PlayStation 4 and Nintendo Switch, very retro gaming-oriented, are, therefore, particularly aimed at collectors. Today, Red Art Games has published no less than 30 video games, all platforms combined, and does not intend to stop there!
https://www.redartgames.com/


About QubicGames
QubicGames is an independent game publisher and developer based in Warsaw, Poland. The company was founded 16 years ago and has a track record of successful releases, especially for Nintendo and Sony platforms. Since 2017 QubicGames has been focusing on Switch, with over 40 games published already!
Visit https://qubicgames.com/ to learn more.