Press Release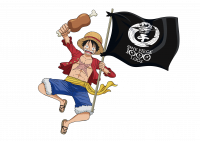 ©Eiichiro Oda/Shueisha, Toei Animation 
One Piece 1000 Logs Marathon Coming to France & Benelux on November 21st

– CGR Events and Kinepolis have scheduled a memorable One Piece night –

Paris, France – October 26, 2021 – It's megabucket popcorn time. To celebrate the 1000th episode of the One Piece anime series, more than 120 cinemas across France and the Benelux region are hosting the One Piece 1000 Logs Marathon on November 21st, the day of the 1000th episode's broadcast in Europe, and just one day after its first screening in Japan. CGR Event and Kinepolis partner theatres will throw open their doors to budding Straw Hat Pirates at 18:00 on the day for a riotous blast of One Piece visual entertainment.

©Eiichiro Oda/Shueisha, Toei Animation 

The screening schedule for the event is as follows:

One Piece: Strong World

– The monumental One Piece film

One Piece Characters Log – Monkey D. Luffy

– short film about Monkey D. Luffy

The

One Piece 1000th Episode

Plus more bonus surprises

And as a special fan bonus, there are 1000 exclusive "One Piece 1000 logs" tote bags to win for the ticket owners who can answer correctly to a short One Piece quiz on CGR's social network. Useful for that leftover popcorn.

Tickets will be sold from October 26th. For more information and to buy tickets to the screenings, go to: 
https://www.cgrevents.com/programmation/marathon-one-piece-1000-logs


As part of the ongoing autumn celebrations for the One Piece 1000th episode, fans can already take part in the world record bid for the biggest ever digital photo album by uploading their selfies here.

Stay up to date with all the latest One Piece 1000 news and updates online:
Instagram
Twitter

About One Piece:
The One Piece series is the adaptation of the eponymous manga created by Eiichiro Oda in 1997. Since then, One Piece has become an international hit, with over 480 million copies of the manga sold worldwide. For over 10 years, the One Piece manga has ranked #1 in sales in France. Produced by Toei Animation since its debut in 1999, the animated One Piece series now celebrate its 1000th episode!

Synopsis: Monkey D. Luffy and his Straw Hat Crew sail across the seas, seeking the legendary "One Piece" bounty. Together, they must face numerous adventures. Whoever finds the "One Piece" will become king of the pirates, which is Luffy's ultimate dream.

---

About Toei Animation Europe:
With headquarters in Tokyo and sales offices in Los Angeles, Hong Kong, Shanghai and Paris, Toei Animation ranks amongst the world's most prolific animation production studios. Toei Animation's operations include animation development and production, and worldwide marketing and program licensing. Founded in 2004, Toei Animation Europe is in charge of the distribution and exploitation of Toei Animation's animated series in Europe, Africa, Russia and the Middle East. Among its most famous series are Captain Harlock, Dragon Ball, Saint Seiya, Sailor Moon, and One Piece.