Press Release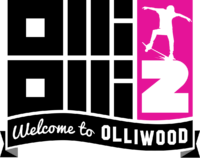 OlliOlli2: Welcome to Olliwood is now available on PlayStation 4 and Vita – Free for PS+ subscribers

 

OlliOlli2: Welcome to Olliwood boasts a stunning new look, monster new levels and flow, ramps, split routes and secret lines, not to mention a sick new selection of tricks and modifiers to help you finger your way to glory. Roll7 even had the foresight to launch with FULL leaderboards this time, which should keep glory hunters happy.

Tom Hegarty is the game's Producer, 'OlliOlli2 is all kinds of amazing.  Fact. We are frothing at the fingers to get this badboy into people's hands. So download it and fall in love with slamming, again.'

The game will ship WITHOUT Combo Rush, the local multiplayer mode, as the small team wanted to add some extra functionality and tighten up the experience – but it is feature complete and in internal QA and will be coming in a FREE patch very soon.

Simon Bennett, Director of Shouting about things, is all kinds of excited. 'The tiny team here in Deptford has created some serious skatey magic, even though it's 2D and was made by 10 people, it's the best arcade skateboarding experience you will find anywhere, ever!"

Key Sequel Features!

• Manuals – chain together grinds to do massive level long combos
• Ramps, Monster Air and Epic Hills – nail a slick new skate flow in Olliwood 
• Split Routes and Hidden Lines – 5 Star levels by exploring all the possible routes 
• Slick New Art Style – clean, vibrant new world to make your eyes smile 
• Updated Tricktionary – allowing for more personal style; are you a grind switcher or a spinner?
• Reverts, Revert Manuals and Grind Switching – max-out your multiplier in all new ways
• Extended 18 song Soundtrack – meticulously handpicked for your aural pleasure
• Combo Rush – awesome four player local multiplayer mode (Coming soon!) 

OlliOlli2: Welcome to Olliwood Info
Drop in to Olliwood and prepare for finger-flippin' mayhem in this follow up to cult smash OlliOlli.

The iconic skater is going all green-screen with a stunning new look, plucking you from the street and dropping you squarely in the middle of the big screen's most bodacious cinematic locations.

The sequel boasts all new Ramps and Epic Hills allowing for monster air and multi-route levels. Further, OlliOlli2's combo system has been expanded. The joy of Manuals, Reverts, Revert Manuals and Grind Switching giving you more control and expression than ever before.

The hallowed 'Tricktionary' also expands with new specials including 540 Shove-its, Anti-Casper Flips and Darkslides.

There's Five NEW worlds, 50 NEW Amateur and Pro Levels and 250 NEW Challenges to tear through, along with the return of the much loved Daily Grind, Spots Mode and RAD Mode.

OlliOlli2 will be introducing a gnarly NEW Mode: Combo Rush, a split-screen Local Multiplayer (up to four players) with four game modes. This is set to be released post launch – date TBC.

Once again, the crate diggers at Roll7 have scoured the airwaves for a shimmering extended soundtrack, including, Cid Rim, Lone, Faulty DL, Submerse and Mike Slott.

Making of video: https://www.youtube.com/watch?v=3DBKSlpkk1c

For the latest, follow @roll_7 on Twitter

 

 
 
Screenshots

Download
Press Kit
Trailer
Press Contact
For all media/interview request, contact Roll7.