Press Release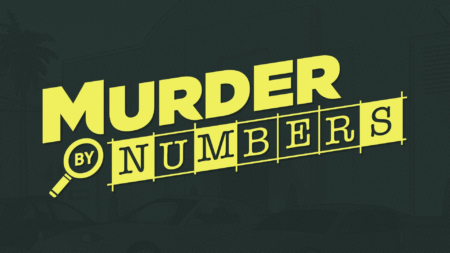 Murder by Numbers Struts Onto The Epic Games Store and Stadia Today

– Solve striking pixel puzzles and cases while wearing just the right amount of 90's neon –

LONDON – March 23, 2021 – It's time to solve mysteries once again, as the acclaimed puzzler Murder By Numbers is out today on the Epic Games Store and Stadia. If you like looking like you just dunked every piece of clothing you own into seven different buckets of colorful paint while glamorously solving devilish murders, then this is the game you've been waiting for.

Fans on those platforms can get a sense of why the title was crowned one of the best games of the year by outlets around the world by checking out the accolades trailer on YouTube.

LIGHTS. CAMERA. MURDER…? It's not exactly what TV detective Honor Mizrahi signed up for, but with the suspiciously sudden death of her showrunner after her dismissal, the suspect spotlight is now resting firmly on her. Help Honor and her rad reconnaissance robot SCOUT clear her name by interrogating a cast of quirky characters, solving pixel puzzles and gathering clues across a range of glitzy venues. Only you and your gorgeous wardrobe of crop tops and denim jeans will get to the bottom of this bizarre mystery.

Ed Fear (Hatoful Boyfriend, Swords of Ditto, Heavenstrike Rivals) invokes a wonderfully camp, 90's charged world in Murder by Numbers' ultimate "whodunnit" – bringing murder, intrigue and cargo pants together. Concocted with a cast of colorful characters designed by Hato Moa (Hatoful Boyfriend) and with a soundtrack composed by Masakazu Sugimori (Phoenix Wright: Ace Attorney, Ghost Trick), Murder By Numbers will transport you back to 1996.

As part of the game's first anniversary, pre-orders are now open for copies of the game's much-loved soundtrack, which arrives on vinyl courtesy of Black Screen Records later this summer. But the celebrations aren't finished just yet! Keep watch for more surprises on the way in the near future. We won't make you solve any puzzles to hear all about them. Maybe.

Murder by Numbers is available on the Epic Games Store, Stadia, Nintendo Switch and Steam, currently with 50% off on all platforms. Keep up to date with The Irregular Corporation on Twitter @IrregularCorp or hit up www.theirregularcorporation.com.

---

About The Irregular Corporation
Part of the Epic Games family and inspired by the different passions of players across the world, The Irregular Corporation has been publishing unique and engaging games since 2015. With a focus on releasing exciting new experiences across a variety of genres, The Irregular Corporation is a global team of passionate industry professionals that use their experience to support independent developers and help realise the full potential of their games. Recently published titles include PC Building Simulator, Good Company and Mars Horizon, while upcoming projects include Going Medieval, Railgrade and Touch Type Tale.

About Epic Games
Founded in 1991, Epic Games is an American company founded by CEO Tim Sweeney. The company is headquartered in Cary, North Carolina and has more than 50 offices worldwide. Today Epic is a leading interactive entertainment company and provider of 3D engine technology. Epic operates Fortnite, one of the world's largest games with over 350 million accounts and 2.5 billion friend connections. Epic also develops Unreal Engine, which powers the world's leading games and is also adopted across industries such as film and television, architecture, automotive, manufacturing, and simulation. Through Unreal Engine, Epic Games Store, and Epic Online Services, Epic provides an end-to-end digital ecosystem for developers and creators to build, distribute, and operate games and other content.