Press Release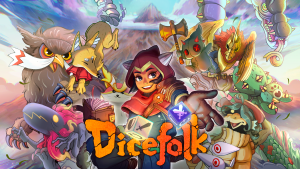 Good Shepherd Entertainment reveals Dicefolk, a new tactical roguelite game combining monster-collecting & dice mechanics

– Assemble a squad of unique creatures to battle later this year on PC –

THE HAGUE, Netherlands – May 23, 2023 – Good Shepherd Entertainment has announced Dicefolk, a new single-player tactical roguelite game built around dice and monster-catching mechanics, coming later this year to PC. Developed by Leap and Tiny Ghoul, Dicefolk gives you unparalleled control over every battle: take command of the dice and the order of enemy turns to gain the tactical advantage. Discover dozens of unique and powerful creatures to recruit and create the perfect squad to win!

In the world of Dicefolk, Dicefolk are exceptional beings that can bring magical creatures called chimeras to life from their grimoire. But some chimeras are wreaking havoc! As a Dicefolk whose dice-shaped artifacts can command any chimera, it's up to you to restore peace and harmony across the land in this exciting roguelike adventure. Command your creatures using unique dice mechanics and take charge of each fight to lead your team to victory.

Key Features

Thrilling Roguelite Adventure:

Collect new and more powerful chimeras to build your perfect squad while unlocking talismans to uncover more of the story. Discover different combinations of chimeras to enable new strategies for each run with endless possibilities and replayability!

Take Control of Combat:

You decide the fate of the dice! Command your chimeras while choosing the faces of the dice and the order in which each party takes its actions. Your choices will determine your success as you battle a variety of wild creatures in combat.

Master Your Chimeras: Recruit your squad from a range of dozens of mighty monsters, from hardy tanks to quick attackers and more. Each chimera offers a unique set of abilities to help you shape your strategy and adapt your play style for whatever challenge comes your way!


Dicefolk is available to wishlist now on Steam. For all the latest updates, follow the team on Twitter, TikTok, and YouTube.

---

About Good Shepherd Entertainment
Good Shepherd Entertainment is an award-winning independent game publisher based in the Netherlands. The company has built a robust global footprint, shepherding talented development teams to create impactful games that innovate, challenge, and – most importantly – entertain. They have done this by pairing creators with writers, musicians and IP powerhouses and through strategic partnerships with some of the industry's most notable names, including Devolver Digital, Croteam and Perfect World. In addition to the acclaimed John Wick Hex and Monster Train, GSE's selection of titles includes Hellboy Web of Wyrd, Showgunners, Phantom Doctrine, the Transport Fever series, and the Hard West series. For more information, visit www.GoodShepherd.games.


About Leap Studios
Leap is a game studio based in Lima, Peru, founded in 2012. Its latest releases were the visual novel Where's Tess?, the hand-drawn brawler Tunche and the award-winning narrative game Arrog in collaboration with Hermanos Magia studio. For more information, visit www.leapgs.com/

About Tiny Ghoul
Tiny Ghoul is a game collective formed by Luis Wong, Gregory Parisi and Paul Gerst. They initially met at school and collaborated on their first video game prototype. Since then, they have kept experimenting and exploring new ideas together.