Press Release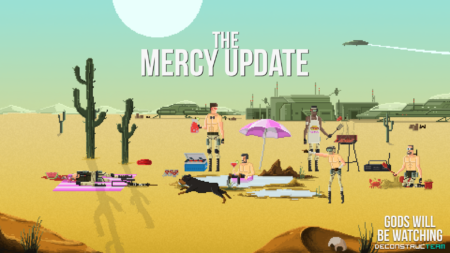 Valencia, Spain

GODS WILL BE WATCHING: 'MERCY UPDATE' NOW AVAILABLE

– Your Prayers to the Gods Have Been Answered As Deconstructeam Releases New Settings So You Stop Dying All The Time –


Deconstructeam and Devolver Digital have released the "Mercy Update" for the indie thriller Gods Will Be Watching on Steam, Humble and GOG, bringing sweet relief to those gamers that found the harder paths through the game a bit too hard. The update to the critically lauded title brings new challenge settings that adjust the game's overall difficulty and a new option to remove the element of chance from decisions made throughout the game. It's still no cakewalk though, chumps.

Meet the dev team next week: gamescom@cosmocover.com 


"The team is very happy with the release of Gods Will Be Watching and the reception of the intense challenge we set out to deliver, but we've also been listening carefully to all the feedback, and we want to make the game as accessible as possible to every kind of player", said Deconstructeam designer Jordi de Paco. "The Mercy Update is the result of our team's discussions with both fans and critics, refining the game and creating new settings that allow more gamers to experience Gods Will Be Watching at a comfortable challenge level."

New challenge settings range from Original Mode, which keeps the game's full difficulty intact, to a new Puzzle Mode that removes all elements of chance and Narrative Mode for gamers looking to just experience the story with minimal obstacles to success.

Gods Will Be Watching is a minimalistic "point and click thriller" centered on despair, commitment, and sacrifice as players face intriguing puzzles and tough decisions that will affect their entire crew's wellbeing. Set against the backdrop of an interstellar struggle, Gods Will Be Watching follows Sgt. Burden and his crew in six tense chapters that examine a multitude of mature themes ranging from hostage situations and wilderness survival to biological weapon prevention and agonizing torture scenarios. Players are faced with incredibly difficult choices as their mental fortitude and personal limits are tested in every scenario. Each decision is crucial and players will need to choose between the lives of their team and the saving the world from genocide.

Gods Will Be Watching is available now for PC, Mac, and Linux via Steam, GOG, and Humble. For more information on Gods Will Be Watching or to try the original prototype, visit godswillbewatching.com.