Press Release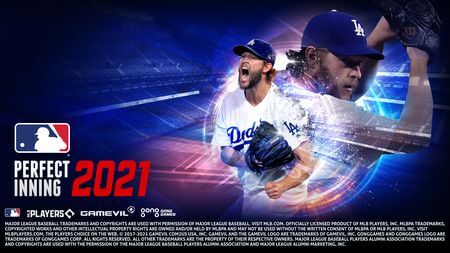 GAMEVIL's realistic baseball game, MLB Perfect Inning 2021 Launches Worldwide with Star Pitcher Clayton Kershaw on the Mound

– This new installment introduces new and improved features and will celebrate the launch with an exciting in-game event where players can win rewards or autographed merchandise –

Seoul/Berlin, March 31st, 2021 – GAMEVIL announced that MLB Perfect Inning 2021 will launch today simultaneously worldwide on the Google Play Store and Apple App Store. This game is the eighth and latest installment in the ever-popular MLB Perfect Inning series, which began in 2014. Backed by a long-standing partnership with MLB and MLB Players, Inc. MLB Perfect Inning has enjoyed considerable success across the globe and is a mainstay in the mobile baseball game genre.

This year's iteration of MLB Perfect Inning will feature Clayton Kershaw, star pitcher of the Los Angeles Dodgers, as its cover athlete. Kershaw has eight All-Star appearances under his belt and is a three-time Cy Young Award winner. He was the starting pitcher for the 2020 season and was a key factor in the Dodgers' successful World Series run last year. MLB Perfect Inning 2021 aims to create a more realistic gameplay experience by using real data from Major League Baseball such as the most up-to-date rosters.

For MLB Perfect Inning 2021, "Live Battle" has been revamped and will now be part of the new "PvP League." This mode will boast a new grade system and balance tweaks to matchmaking, as well as an overall improvement to rewards. A "Card Dismantle" feature will also be added to the Player Card Piece system. Users will be able to dismantle spare Player cards and obtain useful items from them. Furthermore, MLB Perfect Inning 2021 will also see an improved search feature in the Free Agent Market, where users will now be able to conveniently compare Player Cards at a glance. The game will also add a new max card grade called "ALL TIME BESTS." These cards feature the all-time best major leaguers of each position. ALL TIME BEST players are sure to bring a significant increase to the team overall (OVR) with their special abilities.

To celebrate the game's launch, MLB Perfect Inning 2021 will be holding a special in-game event. A Clayton Kershaw Merchandise Event will be held until April 20th, which is sure to excite fans of MLB. Upon login, players will receive a coupon every day and will automatically be entered into a giveaway. Winners will receive an autographed jersey, cap, or baseball. Players with more coupons will have a higher chance of winning the event, and users will also receive various rewards including an S Grade Boost Trainer and a Highlight Kershaw Lv. 10 Draft. In addition, users who log in to the game after the update will receive a Highlight Kershaw Lv. 1 Draft.

The MLB Perfect Inning series is a popular baseball franchise from GAMEVIL and GONG GAMES, backed by a long-standing relationship with the MLB. The series is a global steady seller and its popularity can especially be felt in countries that enjoy baseball, such as the Dominican Republic, Japan, Mexico, and Taiwan.

---

About Major League Baseball


Major League Baseball trademarks and copyrights are used with permission of Major League Baseball. Visit MLB.com. Officially Licensed Product of MLB Players, Inc. MLBPA trademarks, copyrighted works and other intellectual property rights are owned and/or held by MLBPA and may not be used without the written consent of MLBPA or MLB Players, Inc. Visit MLBPLAYERS.com, the Players Choice on the web.

About GAMEVIL
GAMEVIL has published games optimized for mobile devices enjoyed by over 115 million players since 2000. GAMEVIL is an experienced global mobile game developer and publisher, having worked with more than 70 top studios around the world. With offices in Los Angeles, Berlin, Tokyo, Beijing, Bangkok, Singapore, Taipei, Hanoi, Jakarta, and headquartered in Seoul, GAMEVIL has been able to craft numerous award-winning games with a diverse background through a deep understanding of the industry and regional knowledge. GAMEVIL continues to lead the sector with a commitment to establishing mobile gaming as a way of life. Follow GAMEVIL on Twitter at @GAMEVIL; GAMEVIL on Facebook at facebook.com/gamevil. For more information, visit http://www.gamevil.com.