Press Release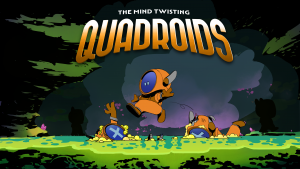 Train your brain to control the galaxy with 2D puzzle platformer The Mind Twisting Quadroids™, revealed at gamescom 2023 for PC & Consoles

– Conquer the evil AI and challenge your coordination in this mind-tickling debut title from Blue Loop Studio. –

Cologne, Germany – August 24th, 2023 – GAMESCOM – Publishers Just for Games and Fabloo Games revealed at gamescom 2023 their new 2D puzzle platformer game, The Mind Twisting Quadroids™, developed by Blue Loop Studio. Offering the ultimate coordination and dexterity challenge, this rewarding strategic experience has been announced for PC, Nintendo Switch, PlayStation 4, PlayStation 5, Xbox One and Xbox Series X|S.

Watch the game's announcement trailer here:


In The Mind Twisting Quadroids, players will assist an evil robotic overlord known as Roboctopus in fulfilling its destiny as supreme ruler of the cosmos. Guide Roboctopus' army of Quadroid bots over 100 interconnected levels filled with lasers, acid baths and a variety of other automaton annihilating hazards. Look for opportunities hidden in each of the game's four screens and sacrifice your Quadroids wisely. Refine those psychomotor skills and carve a path to cerebral domination.


Features:

Four Screens, One Goal

– Control and coordinate across four split-screens at the same time.

Overcome all obstacles

– Avoid acid baths, dodge spikes and control the environment with robots. 

Droids die too. Sacrifice the Quadroids to progress!

– Remember, even if a character dies a horrible death, they can still help in the quest! Each body is a platforming opportunity… 

Defeat the AI

– Discover more than 100 cute pixel art levels (complete with gory elements for added fun) on your mission to conquer the galaxy! 

"We're excited to bring our expertise and experience with beloved retro platformers to The Mind Twisting Quadroids," said Guillaume Crouzille, the creator of Quadroids. "We're building a unique puzzle strategy-platforming challenge that really pushes the boundaries of what's come before. With so many controllable characters and screens at the player's fingertips, and innovative new ways of traversing the environment, this is a game fans of the genre won't want to miss. All wrapped up in cute but gory pixel art." 

The Mind Twisting Quadroids will soon launch across PC, Nintendo Switch, PlayStation 4, PlayStation 5, Xbox One and Xbox Series X. For more information, visit the game's Steam page and follow the developers on Twitter, Facebook, Instagram and Discord.

---

About Blue Loop.
Blue Loop is an indie developer from Northern France, focused on fun and intense video game experiences. After 8 years at Ankama as a developer / game designer working on titles like Dofus Arena and Wakfu, a quick shot as an indie for 2 years and another 4 years as a software developer for Elosi, Guillaume Crouzille decided to go solo and started his own studio, Blue Loop. The Mind Twisting Quadroids is the studio's debut title.

About Fabloo Games 
Fabloo Games is an indie publisher founded by Michael Sportouch (former European VP of Activision Publishing) in 2018. Their mission is to discover and bring amazing indie gems to the video games market, delivering the next big hit. Fabloo Games is passionate about working with indie developers and studios around the world.

About Just For Games 
Just for Games is a Parisian developer that's worked with developers from every level of the industry, from Epic Games to a wide range of indie companies. Some of their most recognisable titles include Sniper Ghost Warrior: Contracts, Trine 4, and Jurassic World Evolution. They also distribute most of the video game OSTs on vinyl in France, as well as retrogaming hardware.