Press Release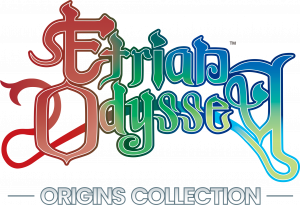 Endless adventure awaits in Etrian Odyssey™ Origins Collection – now available on Nintendo Switch™ and PC

 

IRVINE, Calif. – June 1, 2023 – ATLUS today launched the Etrian Odyssey Origins Collection, HD remasters of the first three games in the Etrian Odyssey series, on Nintendo Switch and PC via Steam. The collection, which features Etrian Odyssey HD, Etrian Odyssey II HD and Etrian Odyssey III HD, brings the timeless RPG series to modern platforms, featuring improved graphics and new quality-of-life options.

Watch the new launch trailer for the Etrian Odyssey Origins Collection here: 

In the Etrian Odyssey Origins Collection, players can embark on endless adventures, customizing their party to take on the challenges that await them within sprawling labyrinths. Along the way, players will make new discoveries while charting their course with Etrian Odyssey's mapping tool, rebuilt with added functionality for both Nintendo Switch and PC.

Key Features

Remastered graphics, remastered soundtrack and quality of life improvements including difficulty selection and save slots.

Touch screen mapping functionality for Nintendo Switch. Plot your progress through the labyrinth, drawing walls and placing icons to note special events and items.

Full mouse support and functionality to map drawing, menus, and dungeon exploration for the PC version only.

Easy access to the monster compendium, quest log, and skill tree.

24 brand-new character portraits designed for the collection, including the Landsknecht, War Magus, Sovereign, and more.

The Etrian Odyssey Origins Collection is available for purchase on digital storefronts, including the Nintendo eShop and Steam. 

In celebration of the launch, all players who purchase the Etrian Odyssey Origins Collection on either Nintendo Switch or PC by June 14 at 17:00 CEST will receive the Character Portrait DLC Sets as a part of their purchase. These sets feature popular characters from other ATLUS IP:

Character Portrait DLC Set 1 – includes Joker (Persona 5 Royal™) and Ringo (Soul Hackers™ 2).

Character Portrait DLC Set 2 – includes Demi-Fiend (Shin Megami Tensei™ III Nocturne HD Remaster) and Teddie (Persona 4 Golden™).

Character Portrait DLC Set 3 – includes Aigis (Persona 3 Portable™) and Nahobino (Shin Megami Tensei V).

DLC sets will also be available for €2.99 each on June 14 at 17:00 CEST the early purchase bonus ends.

Title: Etrian Odyssey Origins Collection
Release Date: June 1, 2023
Platforms: Nintendo Switch and Steam (Digital Only)
Languages: Written subtitles: EFIGS, JP, KR, CN (SI+TR) (Original only featured JP/EN)

About Etrian Odyssey HD
Beyond the village of Etria lies a mysterious forest with a colossal crack opening to a puzzling labyrinth. Lead a team of explorers into the dungeon, with the promise of riches, fame, and adventure!

About Etrian Odyssey II HD
Take off to the skies for High Lagaard, a mysterious castle beyond the clouds. Assemble a team of heroes, seek the mystery of the colossal Yggdrasil tree and uncover the truth of the city!

About Etrian Odyssey III HD
Set sail to an undersea labyrinth in search of the Deep City of Armoroad! Lead a party of adventurers to explore the vast dungeon in search of untold technology, treasure, and lost secrets

---

 

About ATLUS
ATLUS delivers unforgettable, story-driven gameplay experiences to enthusiastic and dedicated fans around the globe. Established in 1986, ATLUS features a portfolio of beloved and long running game series including PERSONA™, which has sold over 16.8 million units worldwide, and the legendary SHIN MEGAMI TENSEI. ATLUS games are published in the west by SEGA of America, Inc. with its principal office in Irvine, California. Learn more about ATLUS at www.atlus.com.

About SEGA of America, Inc.
SEGA of America, Inc. is the American arm of Tokyo, Japan-based SEGA CORPORATION, a worldwide leader in interactive entertainment. Established in 1986, SEGA of America publishes innovative interactive entertainment experiences for console, PC, mobile and emerging platforms. In 2020, SEGA ranked #1 among Metacritic's Annual Game Publisher Rankings. Its globally beloved franchises include Sonic the Hedgehog™, Like a Dragon™, Virtua Fighter™, Super Monkey Ball™, and Phantasy Star Online™, along with Atlus' Persona and Shin Megami Tensei series. Since its debut more than three decades ago, Sonic has become a pop culture icon featured in dozens of games, TV series, and movies. SEGA of America has offices in Irvine and Burbank, California. Visit www.sega.com.

ⒸATLUS. ⒸSEGA. All rights reserved. SEGA is registered in the U.S. Patent and Trademark Office. ATLUS and ETRIAN ODYSSEY are registered trademarks or trademarks of ATLUS Co., Ltd. or its affiliates. SEGA is registered trademark or trademark of SEGA CORPORATION. All other trademarks, logos and copyrights are property of their respective owners.