Press Release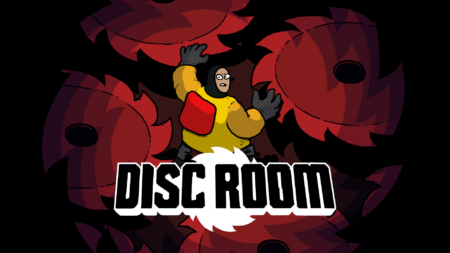 Disc Room Accolades & Sharpest Disc Room Game Jam Entries Revealed!

Critics agree that Disc Room is the greatest disc-based indie sci-fi dodge-em-up of all time, and the new accolade trailer proves it! No take backsies. 


To celebrate, the cutting edge team of Jan Willem Nijman & Kitty Calis (Minit), Terri Vellmann, and Doseone (SLUDGE LIFE) are delighted to reveal their 10 favourite entries to the Disc Room Game Jam, which ran from October 17th-31st! 

All of these games will be the lucky recipient of a stack of Devolver Digital games and the winner gets an extremely valuable Disc Room OST DELUXE SAW SHAPED VINYL! As a recognition of their amazing work, all 164 excellent entrants will receive a copy of Disc Room.

WINNER
Discwheel by 01010111

RUNNER UPS

DISCTOP by Rémy Devaux

Rooms With Discs by Albert Gonzalez

Disc-O-Room by Singlecore Games

Disc Infinity by Newmark Software and Saam Pahlavan

Pigments by Benjamin Soulé

TERMINAL by MINIGOLIATH

Disc Us by mwaayk and keybol

Human's Room by April Ghoul

Bumper Blades by Maroon Seal and k-a-i

Quiz Room by Gobui

Sharpen your senses at www.discroom.com and follow segmented alien lifeforms @kittycalis, @jwaaaap, @doseonetweets, @terrivellmann on their interdimensional communication platforms for multitudinous musings.