Press Release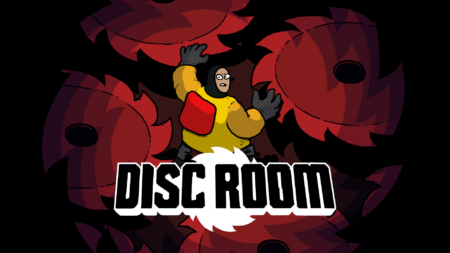 Disc Room Tears into Switch & PC on October 22nd

– The best game you ever saw –

Cutting-edge developers Jan Willem Nijman & Kitty Calis (Minit), Terri Vellmann, and Doseone (SLUDGE LIFE) and safety-conscious publisher Devolver Digital have announced that Disc Room, an ultra-stylish expedition into the depths of an alien deathtrap, will carve its way onto Nintendo Switch and PC on October 22nd.

To shed some light on this intergalactic slaughterhouse, our expert team of developers have bravely donated their voice boxes to science in the interest of preparing players for an extraterrestrial experience that will challenge even the most hardened blade runners. One thing's for sure: Disc Room is here to slay.

Sharpen your senses ahead of lift off at www.discroom.com and follow segmented alien lifeforms @kittycalis, @jwaaaap, @doseonetweets, @terrivellmann on their interdimensional communication platforms for multitudinous musings.