Press Release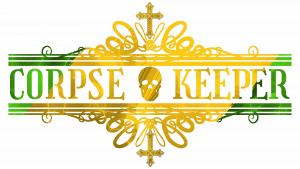 Demonic roguelite Corpse Keeper serves up a fresh nightmare with a new content update today!

– Limited-time 25% discount until Monday, September 25th –

BEIJING – September 18th, 2023 — Corpse Keeper, the medieval gothic action-strategy roguelite from developer Melancholia Studio and publisher Thermite Games, summons a new content update launching today on Steam Early Access featuring new warriors, mechanics, and difficulties. Assemble an undead army today at a 25% discount until Monday, September 25th at 19:00 CEST.

The unhallowed war to purge the city of Lenste rages on, and three new warriors can now rise from the grave into the unholy horde. Pay eternal penance in battle for the crimes of the Felony Prisoner, enlist the former sword-for-hire Vagrant Knight, or call upon the slain Holy Mother Abbess to vanquish evil from cathedral halls. 

Take on new trials and tribulations in the newly added Level 4 Difficulty mode featuring altered decay mechanics. Purify the rotting flesh of the summoned army and restore light to dimming Soul Crystals in the life-giving Fountain hidden in the Counselor's Chamber. In this wicked high-risk-high-reward zone. Enemies gain strength and possess new attack patterns. Stay vigilant and pray the emboldened, unpredictable Crazy Knight roaming the dreaded chamber halls doesn't ruin risky runs.

Assemble an undead army from more than 30 different punished souls, damned to lend their strength to a war against the demon of Lenste. Cast necromancy spells to control corpses in battle, and manage an army with either decay-slowing preservatives or by adding defeated enemies to one's ranks. 

Slash and parry gruesome goblins and sinister spirits, reveling in the spoils of victory with new gear, weapons and resources dropped from slain foes. Battle through six eerie environments including haunted graveyards, cursed libraries and bone-chilling dungeons while striking a balance between aggressive tactics and army preservation. 

"Corpse Keeper was already known for its challenging elements, but we upped the ante with the Counselor's Chamber," says HC Li, Producer, Melancholia Studio. "We are storming towards having 40+ characters at launch, and would like to thank the community for lending their voice towards which has led to various features in our latest update."

Corpse Keeper is now available on Steam Early Access for €19.50 and supports English, Simplified Chinese, German, French, Spanish, Italian, and Japanese language options. 

To learn more about Corpse Keeper, be sure to follow their official Twitter account, and join the community on Discord.

---

About Melancholia Studio
Melancholia Studio is a development company that focuses on crafting challenging yet addictive gameplay experiences. With a deep respect for the player's skill and an understanding of what makes for a rewarding difficulty level in games, Melancholia Studio sets out to make memorable games, engaging experiences, and unforgettable encounters for gamers worldwide.


To learn more about Melancholia Studio, visit their official Twitter account

About Thermite Games
Thermite Games is a publishing company behind hit titles such as Sophia the Traveler, Corpse Keeper, and Tales of the Neon Sea. Founded in 2020, Thermite Games consists of young, passionate gamers and industry professionals based in Beijing, China.

To learn more about Thermite Games, visit their official website, and follow them on Twitter.