Press Release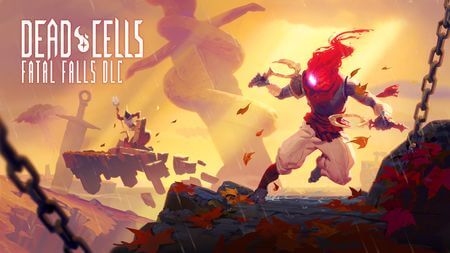 Dead Cells DLC 'Fatal Falls' Now Available on PC & Consoles

– Depressingly quirky animated trailer released alongside the brand new Dead Cells: The Fatal Seed bundle & a lot of sales –

Bordeaux, France – January 26, 2021 – Motion Twin and Evil Empire announced that the anticipated Fatal Falls DLC is now live on PC and consoles, alongside a slick new animated trailer showcasing the various enemies, biomes and unavoidable deaths fans can expect in the new DLC (€4.99).  Fatal Falls DLC is the 22nd major update to the award-winning Dead Cells and only the second paid DLC since the game's initial Early Access debut in 2017. 


Additionally, prices are slashed across all platforms starting today. Prices and exact dates of sales vary, so fans should check their preferred platform shop starting today and through this week for deals. 

The newest bundle, Dead Cells: The Fatal Seed Bundle is available today for fans on Nintendo Switch (19,99€). The bundle content includes all previous 20 free game updates plus the two paid DLCs, The Bad Seed and Fatal Falls (regularly priced 4.99€ each). 

Additional deals include: 

First-ever 50 percent off the base game (12,49€) is a superwicked deal for fans interested in checking it out for the first time

33 percent off

Dead Cells: The

Fatal Seed Bundle

(19,99€) for those looking to go all the way   

30 percent off

The Bad Seed

DLC – never discounted before – (3,49€) 


About Fatal Falls: 

The Fatal Falls DLC introduces a significant amount of new content for fans including two new mid-game biomes, a killer new boss and a slew of new weapons and items. The two new biomes are parallels to the 'Stilt Village', 'Clock Tower' and 'Time Keeper' areas and are intended as alternate paths to spice up your mid-game runs. 

Along the new paths fans can expect to encounter a cute but deadly pet sword and deranged enemies like the Myopic Crow, the Clumsy Swordsman, the Compulsive Gravedigger and a lot more (eight total) culminating with the final boss, The Scarecrow.  

And what's an update without new weapons? Fatal Falls' new maniacal sword (did we mention it flies?) is designed to bring Brutality players a real counterpart to the Great Owl and Mushroom Boi. Sickles, undoubtedly one of the more iconic weapons in existence, have also been added – they are attracted to enemies and will follow you around a bit. Seven new weapons in total have arrived: Lightning Rods, Ferryman's Lantern, Scarecrow's Sickles, Iron Staff, Snake Fangs, Serenade and Cocoon. Each one will help you in different areas of the two new biomes. And because we want you to feel good AND look good, a total of 10 new outfits have also been added to the update. 

Fatal Falls marks the second paid DLC drop for the 2018 GOTY winning Dead Cells. The developers have kept a steady flow of free content on tap for its loyal community across all platforms for the past 30 months. The first paid DLC, The Bad Seed dropped last year for the same price of $4.99. Previous recent updates have included bringing six new mobs, massive systematic updates and the much-requested backpack, several new biomes, dozens of distinct (and mostly deranged) new enemies and a variety of badass weaponry to help you not die as much. Update 21, the Malaise Update, changed the way the late game mechanics work entirely. The Malaise Update will hit consoles in February; it is currently available on PC. 

As always, the complete list of updates can be found here: https://dead-cells.com/patchnotes 

Winner and nominee for dozens of Game of the Year 2018 awards, Dead Cells is a critically-acclaimed roguelite metroidvania action platformer set within an unpredictable castle packed with dark secrets, game changing items and hordes of deadly beasts. Players face tough risk-reward decisions, building their loadout from an incredibly diverse arsenal of weapons and abilities in the hopes of dodging the castle's omnipresent threat of permadeath. A steady series of post-launch updates addressing fan feedback has evolved Dead Cells, keeping its action-centric adventure as surprising as it is rewarding. 

For the latest on Dead Cells, be sure to follow @motiontwin on Twitter. 

---

About Motion Twin
Motion Twin is an independent game development studio based in France since 2001 and are the creators of the hit roguelike action game Dead Cells, available for PC, Xbox One, PlayStation 4 and Nintendo Switch platforms. Motion Twin is a worker cooperative passionate about creating new game experiences. Learn more at https://motion-twin.com/en/.

About Evil Empire
Evil Empire is the evil spawn of a bunch of ex-Motion Twiners. Formed in 2018 in close proximity and partnership with Motion Twin, Evil Empire is focused on producing new original content, both for Dead Cells and new IP.