Press Release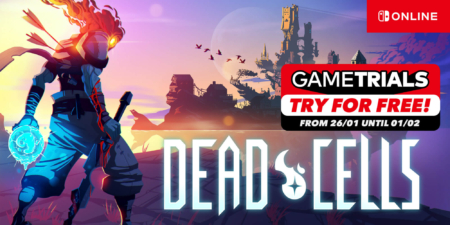 Dead Cells Free To Try on Nintendo Switch January 26 – February 1

– All the death you can muster for free ahead of some sweet discounts starting later this month and a new bundle available for preorder now –

Bordeaux, France – January 19th, 2021 – Motion Twin and Evil Empire announced that the award-winning Dead Cells  will be free to try for seven days on Nintendo Switch for Nintendo Switch Online users (Europe/UK only). Winner and nominee for dozens of Game of the Year 2018 awards, Dead Cells has sold more than 3.5 million copies worldwide and is considered one of the best-in-class roguelites of all time.

Dead Cells is a metroidvania action platformer set within an unpredictable castle packed with dark secrets, game changing items and hordes of deadly beasts. Players face tough risk-reward decisions, building their loadout from an incredibly diverse arsenal of weapons and abilities in the hopes of dodging the castle's omnipresent threat of permadeath. A steady series of post-launch updates (22 in total) addressing fan feedback has evolved Dead Cells since its initial Steam Early Access launch, keeping its action-centric adventure as surprising as it is rewarding. 

Fans can save themselves 24,99€ by heading to the Nintendo eShop and pre-loading the game now for free, which will then be playable for a full week starting January 26. Dead Cells will be further discounted across PC, Switch, Xbox and PlayStation platforms for 50 percent off starting January 26. Dates and durations of sales may vary slightly per platform, so fans should check their preferred platform store for precise details.

A new bundle, Dead Cells: The Fatal Seed Bundle, combines both paid DLCs, Fatal Falls and last year's The Bad Seed DLC, and is currently priced at a 33 percent discount (Switch only) preorder ahead of its launch on January 26th. 

The coming Fatal Falls DLC introduces a significant amount of new content to the game, including two new mid-game biomes, a killer new boss and a slew of new weapons and items. 

For the latest on Dead Cells, be sure to follow @motiontwin on Twitter.

---

About Motion Twin
Motion Twin is an independent game development studio based in France since 2001 and are the creators of the hit roguelike action game Dead Cells, available for PC, Xbox One, PlayStation 4 and Nintendo Switch platforms. Motion Twin is a worker cooperative passionate about creating new game experiences. Learn more at https://motion-twin.com/en/.  

About Evil Empire
Evil Empire is the evil spawn of a bunch of ex-Motion Twiners. Formed in 2018 in close proximity and partnership with Motion Twin, Evil Empire is focused on producing new original content, both for Dead Cells and new IP.