Press Release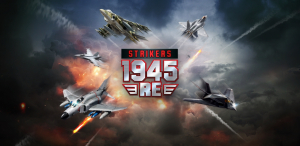 Com2uS' vertical-scrolling airplane shooter Strikers1945: RE launches globally today

– A modern twist on the classic arcade game, with a variety of new features! –

Seoul – September 14th, 2023 – Today marks the return of the classic arcade airplane shooting game! Mobile publisher Com2uS with developer Fevergames launch Strikers1945: RE globally today on mobile via the AppStore and Google Play, with an abundance of new and exciting features.

This vertical-scrolling airplane shooter is based on the IP, Psikyo's Strikers 1945 series, retaining many of the original characteristics including the classic dot-style graphics, a fleet of nostalgic aircraft, stylistic stages to clear and recognisable bosses. Strikers1945: RE modernizes the original arcade game by introducing brand new progression elements such as aircraft upgrades and skill combinations, where players can combine various skills by leveling up with experience points, called "EXP". The game offers a versatile gameplay style, allowing players to select offense skills such as laser and guided missile, or defense skills like engine upgrade, damage reduction, and HP recovery. With this, players diversify their strategies to clear each stage. 

In addition, Strikers1945: RE offers more thrilling content such as "Daily Missions" and a "Challenge Mode" that didn't exist in the original game. In the "Daily Mission", players obtain in-game currency called Coins while practicing and reinforcing their evasive maneuvers. In Challenge Mode, once players clear a stage, they can then replay it in 3 different difficulty settings to unlock more content. 

Jihoon Han, the Head of Game Business Group commented, "Strikers1945: RE is a perfect reproduction of the original game with the implementation of new systems and enhanced features. Both arcade and casual game fans from 170 countries will enjoy playing Strikers1945: RE."

Strikers1945: RE is now available on iOS (via the AppStore) and Android (via Google Play). The game is supported in 10 languages including Korean, English, Japanese, German, French, Portuguese, Thai, and Vietnamese. More details on the game can be found on its official website.