Press Release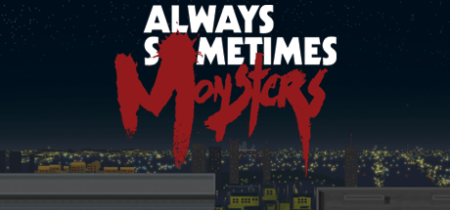 Toronto, Canada

ALWAYS SOMETIMES MONSTERS TUGS AT YOUR HEARTSTRINGS TODAY, AVAILABLE NOW ON STEAM


– Inspired by True Events, a Game About Life, Love, and The Pursuit of Both –




Independent developer Vagabond Dog and the emoting publishers at Devolver Digital announced today that the always sometimes semi-biographical and touching story-driven RPG, Always Sometimes Monsters, is available today on PC via Steam, GOG, and Humble. Demanding the answer to the question, 'How far would you go to get what you really want?', Always Sometimes Monsters takes players on a narrative-driven journey where they face tough life choices and the harsh reality of modern life.

Inspired by the real-life events of Vagabond Dog cofounder Justin Amirkhani while he hitchhiked his way across the U.S., Always Sometimes Monsters invites players to assume the role of a down-and-out character on the verge of collapse after learning the love of their life is set to marry someone else. And as in the real world, right isn't always good, and wrong isn't always bad; choice plays a huge role in the game.

Players will select characters of different gender, race and sexual orientation players and set off on a text-based story where they will quickly discover a world that reacts uniquely to who they are. Each play through is filled with a staggering number of diverging paths, creating a narrative tailored to the individual playing, their choices, and their personal ethical compass. Along the way, players are free to make their own choices as to who they want to become, where every single decision – whether as seemingly inconsequential like moving boxes for some quick temp work, or stepping in and assisting a band of union protesters in a riot – every action contributes to the overall course of narrative.

"Always Sometimes Monsters is an expression of our common struggle to exact choice in a reality where circumstance does not always provide us with the opportunity to do so. It is an experience heavily influenced by our personal journeys in life and the multitude of people whose roads have crossed ours," said Justin Amirkhani from developer Vagabond Dog. "Our hope is that in playing the game you come to question what defines the decisions you make, not just in games but in life as well."

Always Sometimes Monsters is now available on Steam, GOG and Humble via AlwaysSometimesMonsters.com with a 10% discount for a limited time during launch.

More information and discussion is ongoing at vagabonddog.com or on Twitter @VagabondDog.