Press Release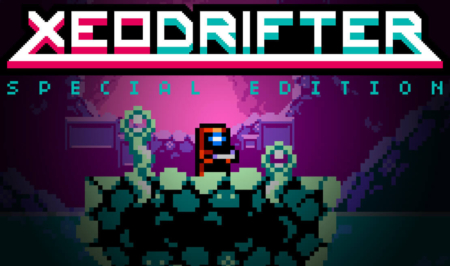 Austin, Texas

Renegade Kid and Gambitious Digital Entertainment Bringing Xeodrifter to New-Gen Consoles, Vita this Spring

– Rebuild your spaceship to return home with Xeodrifter: Special Edition for PC, Available today from Gambitious on Steam –

Renegade Kid and Gambitious Digital Entertainment join forces to bring the intergalactic 3DS hit, Xeodrifter, to current generation consoles this spring, and announced today that Xeodrifter: Special Edition is available now on Steam for PCs for 14,99 €.
In Xeodrifter, players relive the intergalactic globe-trotting Metroidvania gameplay that captured the hearts of 3Ds fans with cunning use of 2D gaming space and thoughtful gameplay. Console players can explore multiple worlds to rebuild their tattered spaceship and return home to their home galaxy for 14,99 € in just a couple short months.

Xeodrifter: Special Edition includes developer Renegade Kid's in-depth development diary, giving players insight into the entire production cycle of the game from its early conception all the way to release. The Special Edition will also include the critically acclaimed soundtrack by artists Roth Sothy, Matthew Gambrell, and Brian Altano bundled in to sweeten the deal for audiophiles and chiptune enthusiasts.

"Working with the Gambitious team to bring Xeodrifter to a wider audience on PC and home console is something we're extremely excited about," said Renegade Kid co-founder and creative director, Jools Watsham. "Xeodrifter: Special Edition is a great way for players to get their hands on the game, the awesome OST, and a detailed behind-the-scenes look at how a few friends managed to cobble together a great game."

Xeodrifter on the console will debut at PAX East this March 6th-8th at the Gambitous' booth, 7179. Renegade Kid will be in Boston for PAX East to meet fans and show off the game all weekend.

About Renegade Kid
Founded in 2007 by Jools Watsham and Gregg Hargrove, Renegade Kid LLC is an award-winning independent video-game development studio based in Austin, Texas. Having created many memorable gaming experiences for the Nintendo DS™ and Nintendo 3DS™, with titles including the Dementium series, Moon Chronicles, ATV Wild Ride 3D, Bomb Monkey, and Mutant MuddsBomb Monkey, the studio is always expanding its portfolio by exploring new gaming platforms, such as PS4, Vita, Xbox One, Wii U and mobile devices. Renegade Kid is excited about the future of video-games, and continues to devote its efforts towards creating fun, high quality games.

About Gambitious
Gambitious Digital Entertainment is a publishing label created as a key component of an ongoing effort to offer artist-friendly digital content production and publishing (inspired by Devolver Digital) to an ever-growing number of developers around the world, utilizing an evolving set of creative crowd finance tools and techniques to get more great games funded, produced, and successfully released. They've also won every publisher dance-off they've been invited to.